Roof Cleaning Cashiers, NC
Let us help you with our Top-Rated Exterior Cleaning Today!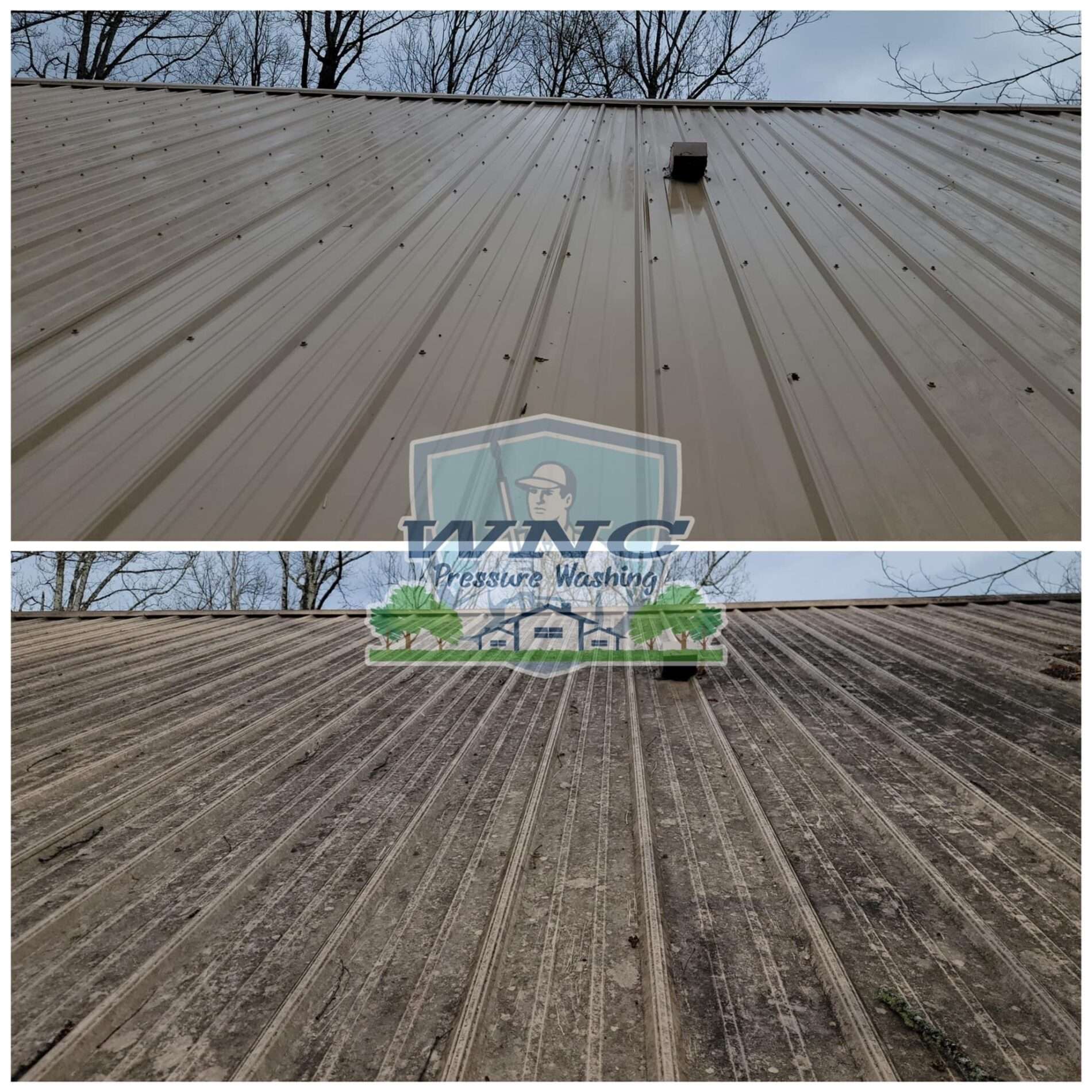 Top Rated

Roof Washing Services in Cashiers, NC
WNC Pressure Washing and Roof Cleaning is your #1 Choice
Without your roof, your house doesn't have any protection from dangerous weather. That's why, if your roof isn't in good shape, it can lead to ceiling leaks. One way to prevent your roof from premature damage is to not only regularly inspect it for problems, but also have it professionally washed. 
Roof cleaning is the process of using a pressure washer to blast away loose dirt and debris, as well as things like mold, moss, and algae. When it comes to removing loose debris from your roof, it doesn't always have to be dirt. Pressure washing can also easily remove cobwebs, animal nests, leaves, animal waste, and branches that may have fallen onto your roof.  If you're ready to invest in quality roof cleaning in Cashiers, NC, turn to the best in the business. Turn to WNC Pressure Washing and Roof Cleaning. 
With proper care, the average roof can last anywhere between 25 to 50 years. However, your roof's shingles don't always share that same lifespan. Shingles have different lifespans depending on the type of material it's made out of.
Clay shingles, for example, may last upward of 50 years, but wood shingles may only last for around 30 years. While this sounds like a long time, you may experience significant damage and a shortened shelf life if things like mold are growing on them.
Mold needs moisture, humidity, and a food source to survive. Usually, your roof provides all of this, which is why it can grow and spread in as little as 24 hours. While the mold damage won't be severe right away, over time, it will begin to eat through your wooden and clay shingles. When it does, the shingles aren't as effective as they should be. This can not only lead to more water damage inside your home but offers a way for mold to get inside, too.
By investing in roof soft washing, you can blast these growths away so they don't lead to severe damage down the line. So how often should you invest in a roof-washing service? Generally, you'll want to hire a roof power washing service to come out once or twice a year. However, it will depend on where you live. For example, if you reside in a heavily forested area, where moss growth is normal, you may need to invest in roof pressure washing and roof moss removal more often. Call WNC Pressure Washing and Roof Cleaning in Cashiers for help: 828-331-8118. 
Benefits of

Hiring a Roof Cleaning Service
WNC Pressure Washing and Roof Cleaning Has you covered
Aside from extending the lifespan of your roof's shingles and increasing curb appeal, one huge benefit of hiring a roof cleaning service is that they can catch issues while they're in the early stages.
For example, maybe your shingles are starting to wear down. While your tech is up there cleaning, they can spot these things and let you know. Of course, this isn't the only benefit of professional roof cleaning. Another one is saving money on your monthly energy bills. Your roof is designed to keep the inside of your home cool.
This is, perhaps, one of the most surprising benefits that many homeowners in Cashiers don't realize until after they invest in proper roof cleaning. Roof cleaning can save you a few hundred dollars a year! These savings alone make roof washing Cashiers, NC worth it!
Other benefits include preventing mold and bug infestations from getting into your home, as well as keeping your roof in good enough shape to be able to get reimbursed by your homeowners' insurance for repairs. For example, let's say your roof was damaged in a severe storm and you need repairs or replacement, your insurance company is more likely to cover the costs if you have proof that your roof was properly cared for.
With proper roof cleaning, you can prove that it wasn't lack of upkeep that caused the damage, but rather circumstances outside of your control.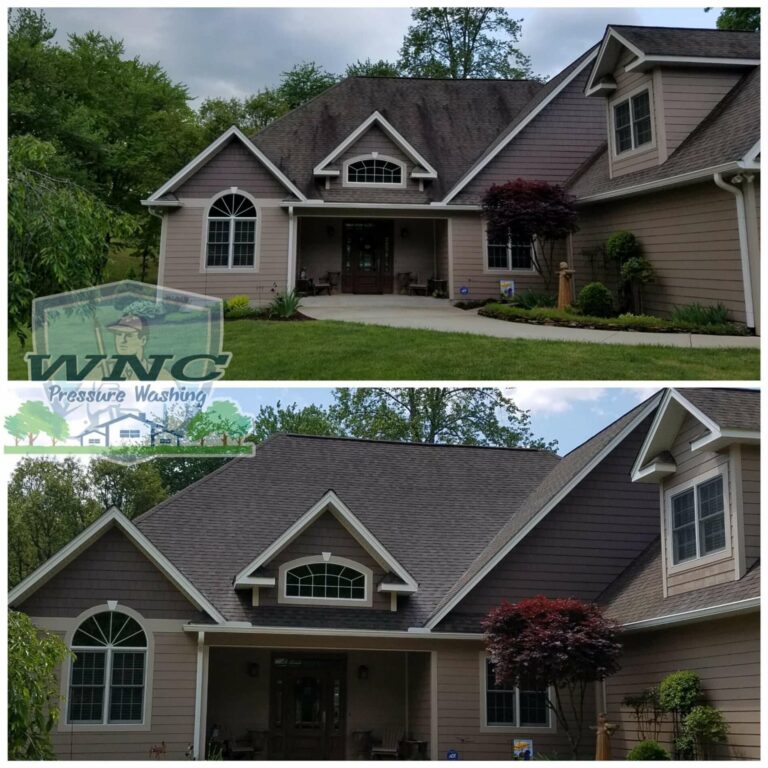 Professional Exterior Cleaning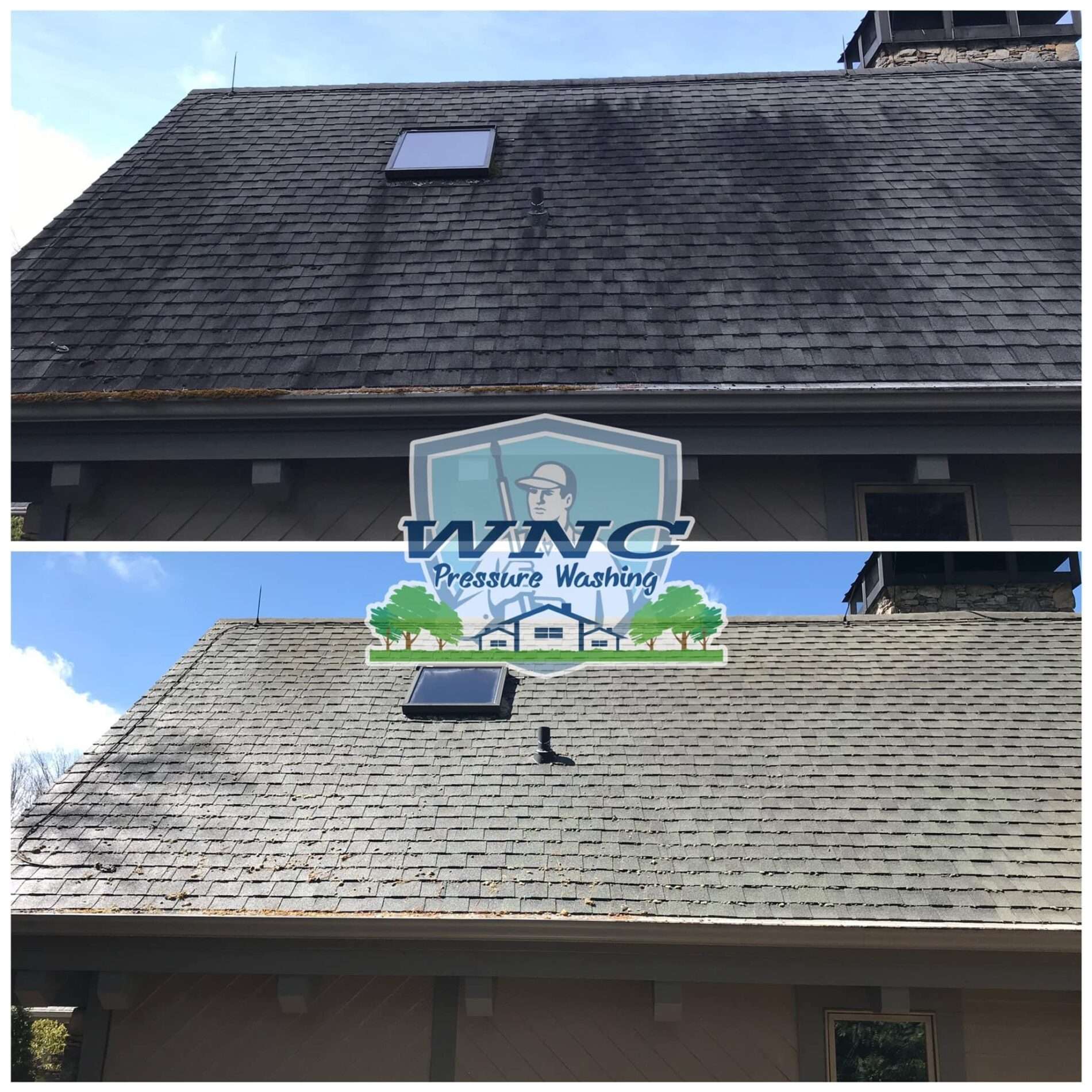 Expert Cashiers

Roof Soft Washing
WNC Pressure Washing and Roof Cleaning Is All you Need
If you're in the market for roof washing near me, you should turn to the team at WNC Pressure Washing and Roof Cleaning. Regular washing not only gets rid of those ugly black streaks on your roof, but it can restore the color of your roof.
Because it's always exposed to harsh sunlight, your roof can easily start to turn colors and fade. If you want to breathe new life into your roof, consider professional roof washing. Whether you invest in pressure washing or soft washing because your roof is a bit older, the team at WNC Pressure Washing and Roof Cleaning can help.
Enjoy a Freshly Cleaned Roof

With the Help of WNC Pressure Washing and Roof Cleaning
WNC Pressure Washing and Roof Cleaning Is All you Need
Are you ready to experience the benefits of a freshly cleaned roof? Contact us for a consultation. We can be reached at 828-331-8118.  WNC Pressure Washing and Roof Cleaning is proud to be a part of the Cashiers community. As a veteran-owned business, we understand how important knowledge and reliability are. When you hire us, you can trust that we'll only use the correct and very best methods to clean your roof. Experience the difference WNC Pressure Washing and Roof Cleaning can make.