House Washing Cashiers, NC
Let us help you with our Top-Rated Exterior Cleaning Today!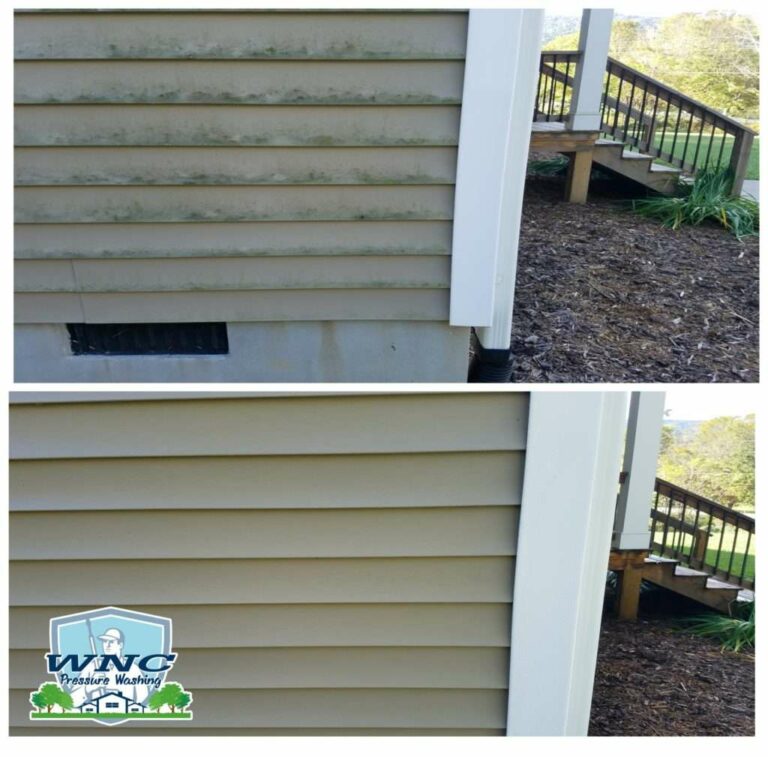 What is Involved

in the Exterior House Washing Process?
WNC Pressure Washing and Roof Cleaning is your #1 Choice
Just like the interior of your home and car, the exterior of your house can get dirty. Not only is your home subjected to poor weather conditions that can kick up dirt, but bugs, rodents, and birds can leave behind waste that you want to get rid of.
Fortunately, cleaning the outside of your house is made easy with professional house washing from WNC Pressure Washing and Roof Cleaning. We are a top-rated exterior house cleaning company in Cashiers, NC. Not only are our rates affordable, but all of our technicians are fully licensed and insured, so you can trust that you're only getting the very best techs and experience. 
House washing usually employs a method called soft washing. Whereas pressure washing uses a highly-pressurized stream of water to remove dirt, gunk, and loose debris, soft washing employs a low-pressurized stream of water.
Soft washing is used for materials that are not suited for the power used with pressure washing. For example, pressure washing may be too harsh on vinyl siding and windows. However, soft washing is safe enough for these. This is one of the big reasons why hiring a professional house washing company is so important because they will not only inspect your home, but they will determine what is the safest method to use on it. This ensures you're not encountering any unnecessary damage. 
The house washing process involves aiming the correct amount of water pressure on the dirty areas. To avoid leaving vertical stains, your house pressure washing technician will apply the water up and down. Generally speaking, loose dirt and debris will lift immediately. More stuck-on gunk may take a few extra minutes. Still, it's possible to power wash a house in as little as 30 minutes.
Is House Soft Washing

Safe to Use on All Types of Surfaces?
WNC Pressure Washing and Roof Cleaning Has you covered
Don't spend hours and hours on Google, typing in "house power washing Cashiers, NC". Instead, contact WNC Pressure Washing and Roof Cleaning for all your washing needs. 
When homeowners in Cashiers hire our house washing company, one of their top questions is whether or not soft washing is safe to use on all surfaces. The answer is yes, soft washing is generally safe enough to use on all types of building surfaces. This includes brick, stucco, paint, vinyl siding, and concrete.
Likewise, soft washing is also safe enough to use on metal. Another big benefit of using soft washing to clean these exteriors is that it uses less water. So, if you're concerned with being environmentally friendly, soft washing is a great option to choose! Call us at 828-331-8118 to set up an appointment!
In addition to being suitable for all types of properties and establishments in Cashiers, NC, pressure washing is beneficial for extending the life of your building's structures. Harmful growth, like moss, mold, and algae, can not only leave behind stains, but they can damage your roof's shingles and even your awnings. This puts them at risk of collapse, as well as rotting and other types of damage.
As briefly mentioned above, house washing can get rid of mold, dirt, and other harmful bacteria. However, there are several other benefits of house pressure washing that are worth mentioning.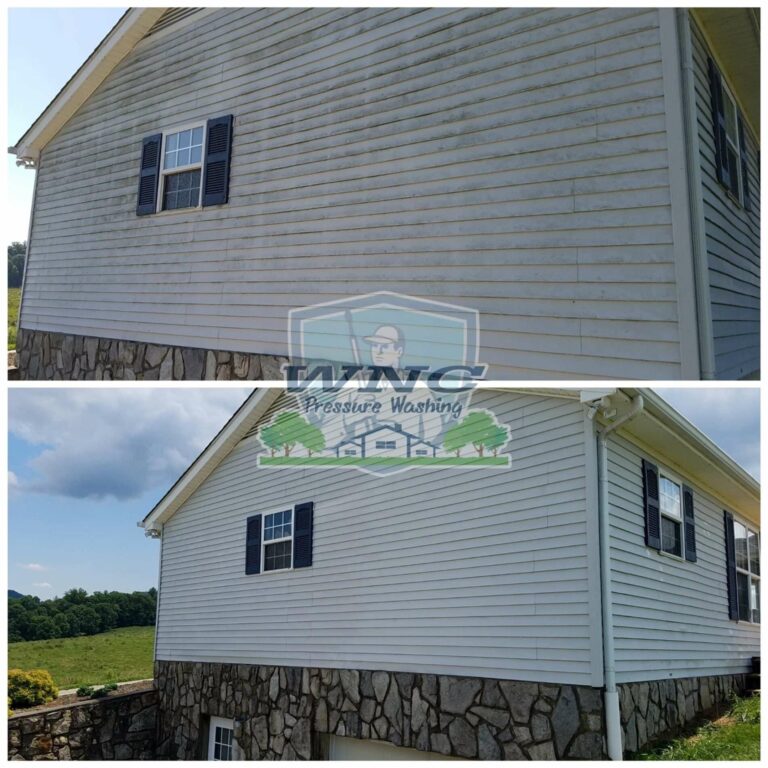 Professional Exterior Cleaning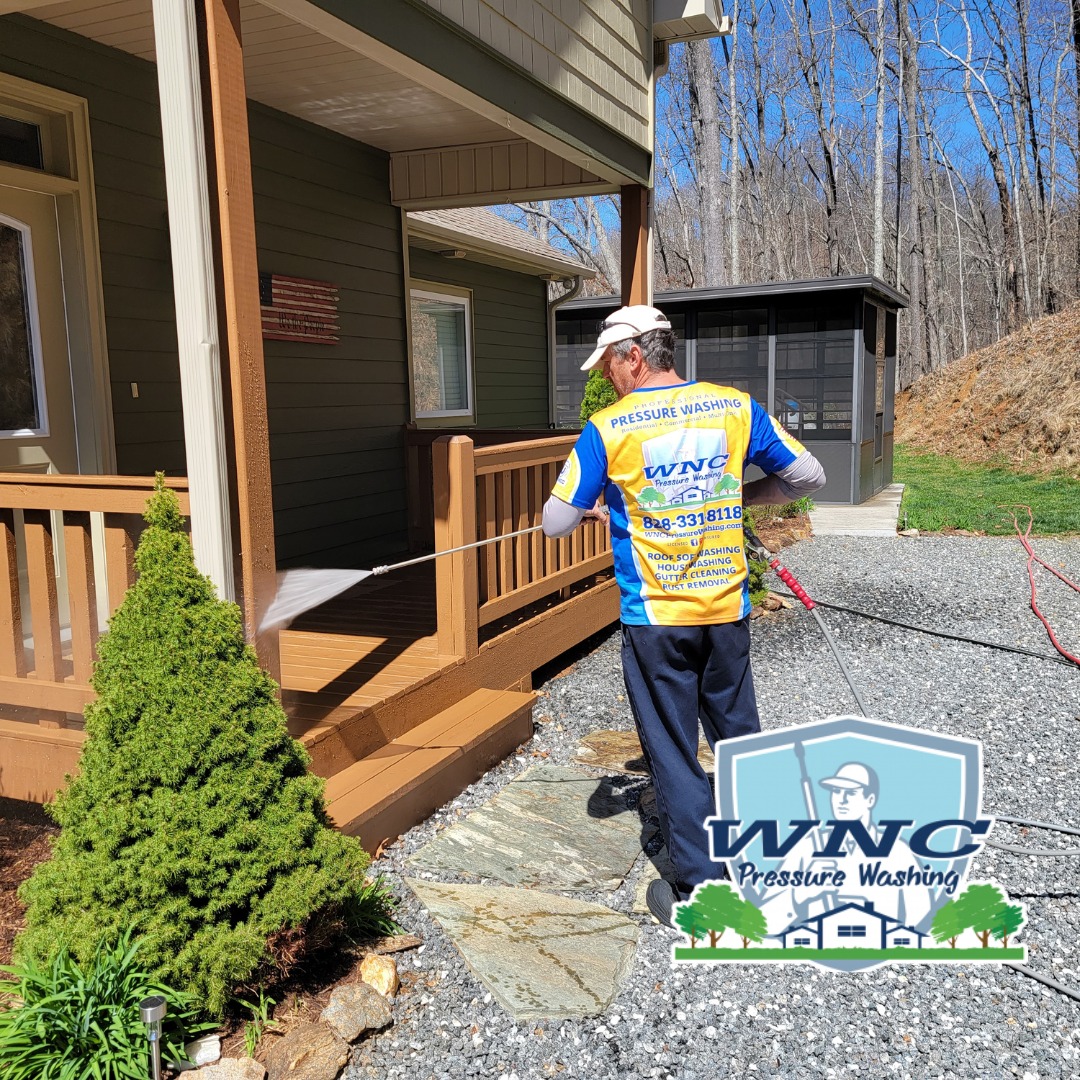 Benefits of Cashiers

House Washing Services
WNC Pressure Washing and Roof Cleaning Is All you Need
One of the biggest benefits of hiring a professional house washing service near me is that it can increase your home's curb appeal and actual value. Homes that invest in routine house washing increase in value by as much as 10 percent. So, if you're in the process of listing your home and want to get more money for it, pressure washing is a quick and affordable way to increase your asking price.
Another big benefit worth mentioning is how house washing can help prevent flooding from rainwater. This is because power washing also includes your gutters. Your home's gutters are designed to move rainwater away from the house. If these are clogged with dirt, moss, or other things, the water will spill over the side and cause water damage, or flooding in your basement. By investing in pressure washing, you can remove these items so water can move through and not have a buildup of water.
These are just a few of the top benefits of pressure washing. Contact our veteran-owned pressure washing company today.
Get the Quality House Washing

You Need with WNC Pressure Washing and Roof Cleaning Today!
WNC Pressure Washing and Roof Cleaning Is All you Need
If you're in the market for quality house washing services in Cashiers, NC, look no further than the crew at WNC Pressure Washing and Roof Cleaning.
Our team members are all fully licensed and insured. We are up-to-date on all the latest cleaning methods and can get the outside of your house sparkling. Contact us today for a quote and to set up an appointment. We welcome you to check out our reviews, as well as to see what our previous clients are saying about our house washing services in the greater Cashiers area.