Expert Membrane Roof Cleaning
Preserve the integrity and longevity of your membrane roof 
with our professional Membrane Roof Cleaning service.
WHY CHOOSE
WNC PRESSURE WASHING?
At WNC Pressure Washing, we always put our customers first, that is why insure all of our services. We want to make your experience as safe as possible.
We are a veteran-owned business that has been serving the community for many years. We are dedicated to providing our customers with the highest quality service possible.
WNC Pressure Washing is the one-stop shop for all your exterior cleaning needs. We understand the importance of ensuring your home is clean and safe for your family.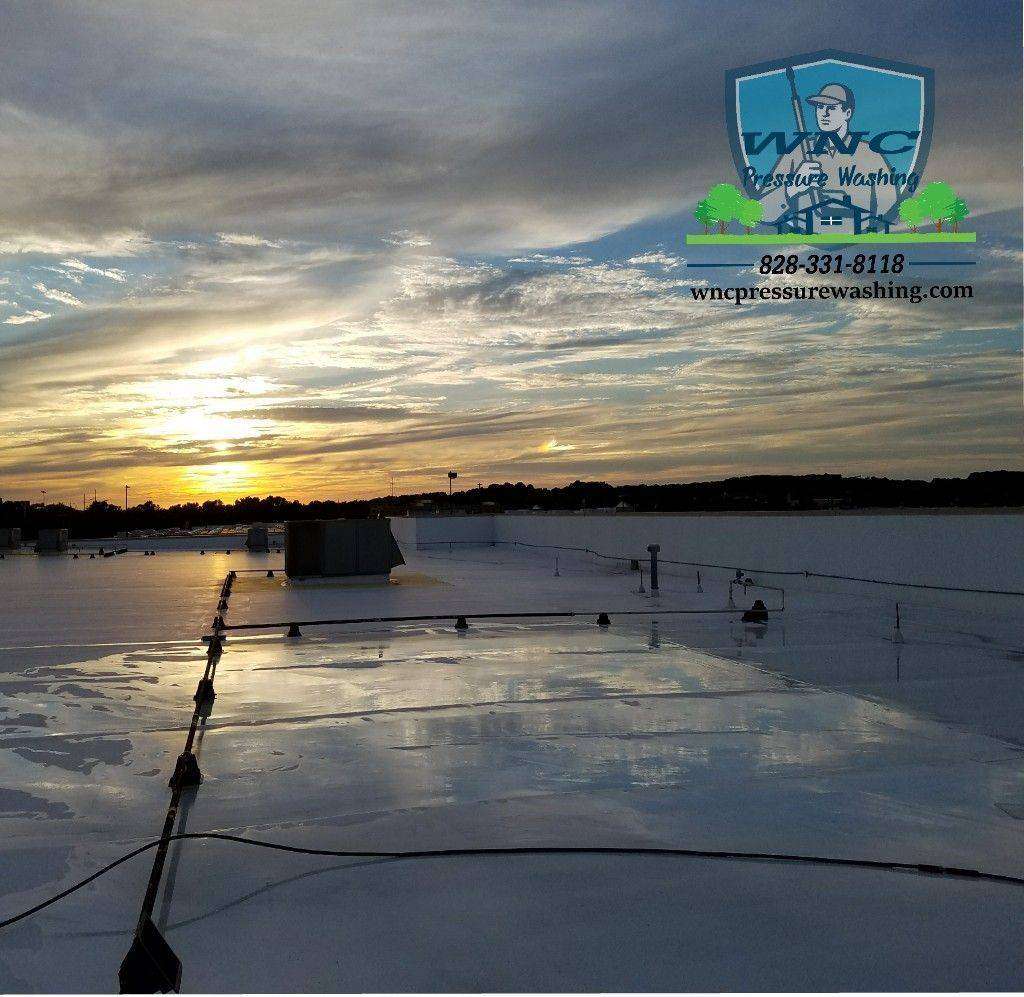 Want Top Rated

Membrane Roof Cleaning Services?
WNC Pressure Washing and Roof Cleaning has got you covered
WNC Pressure Washing provides top rated membrane roof cleaning services, ensuring a thorough cleaning without causing any damage to your roof.

We use high quality biodegradable solutions to eliminate dirt, mold, algae, mildew, and other contaminants from your property.

Our membrane roof cleaning services are tailored to the unique needs of your business, providing you with a custom cleaning solution that fits your individual needs.

With WNC Pressure Washing, you can rest assured knowing that your membrane roof will be cleaned safely and efficiently without any risk of damage.

We are committed to providing our customers with the highest level of satisfaction, and our team of experienced professionals will go above and beyond to ensure you are happy with the results.
Looking for Expert

Membrane Roof Cleaning with no compromise
WNC Pressure Washing and Roof Cleaning can help
Awning Cleaning Is An Effective, Safe And Long-Lasting Cleaning Solution
It Uses Low-Pressure Water And Special Cleaning Solutions To Remove Bacteria, Mold, Mildew And Dirt
An Environmentally Friendly Solution As It Uses No Hazardous Chemicals
Helps To Protect Your Property From Future Damage Due To Mold, Mildew And Other Contaminants
Restore The Original Beauty Of Your Awning, Improving Its Appearance And Value
WNC Pressure Washing and Roof Cleaning will eradicate the source of your building's dirty exterior appearance. Our soft wash approach and roof cleaning blend provide immediate results that last years longer than traditional cleaning methods, and will not damage your property. Unlike conventional pressure washing, our process does not damage your building's roof and conforms to the membrane manufacturer's guidelines for proper cleaning.
At WNC Pressure Washing, we specialize in soft washing, a low-pressure building cleaning technique designed to gently and effectively remove dirt, grime, and mildew from your commercial properties. We use a specialized combination of detergents and sanitizers, along with low-pressure water, to safely and effectively remove dirt and grime without damaging your membrane roof. Our team of experienced and knowledgeable technicians has the expertise and experience to safely and effectively tackle any membrane roof cleaning job. We are committed to providing our customers with excellent customer service and quality workmanship, so you can be sure that the job will be done right the first time.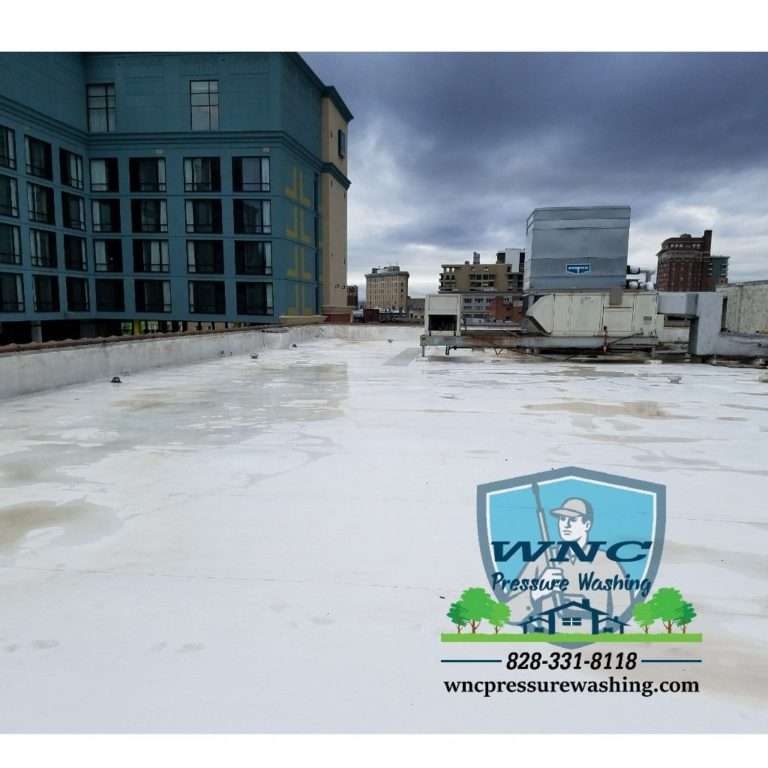 your Satisfaction guaranteed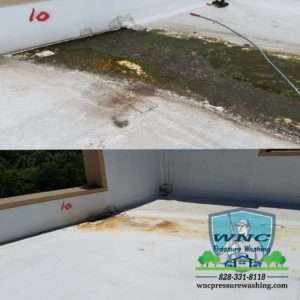 Do You need Professional

Membrane Roof Cleaning?
WNC Pressure Washing and Roof Cleaning is all you need
Your company will notice the big energy savings that can result from cleaning the membrane roof. Our crew can help these savings last longer by applying a biocide at the end of our cleaning process, which will reduce moss, algae, and mold growth. Cleaning the roof allows for the exposure of the roof membrane and can expose needed repairs required for preventative maintenance.
Membrane roof cleaning not only keeps your property looking beautiful, but also increases your building's lifespan, saves energy, and is eco-friendly. Most importantly, membrane roof cleaning kills harmful bacteria, keeping you and your family happy and healthy. Our team at WNC Pressure Washing is highly trained and experienced in membrane roof cleaning services. We understand the delicate nature of the surfaces that need to be cleaned and we use the right combination of pressure, detergents, and solutions to safely clean without causing any damage. We also use eco-friendly detergents and solutions to ensure that we are protecting the environment while providing the highest quality of service.
At WNC Pressure Washing, we take great pride in our work and in providing the best services to our customers. We understand that our customers have different needs and we strive to meet those needs with our quality services.
Searching for

Expert Membrane Roof Cleaning Near me?
WNC Pressure Washing and Roof Cleaning is all you need
White single-ply roofs will get dirty from debris, mold, and pollution. To get the most out of the sun's reflective rays, as well as enhance the aesthetics of the roof, it's wise to have your roof professionally cleaned. At WNC Pressure Washing and Roof Cleaning, we are trained in the proper techniques to clean the roof membrane, OSHA safety training and we use environmentally safe solutions.
High-powered pressure washing is not the answer when it comes to cleaning your membrane roof. Gentle soft washing with the proper chemical mixture can be used to give optimal results. Our special blends actually kill the mold and mildew while pressure washing with only water will not kill the nasty mold. Cleaning is NEVER a "one size fits all" proposition. At each property, we custom blend the solution that is appropriate for the surfaces we are cleaning. This helps to ensure we do not damage any plants or shrubs during our soft washing process.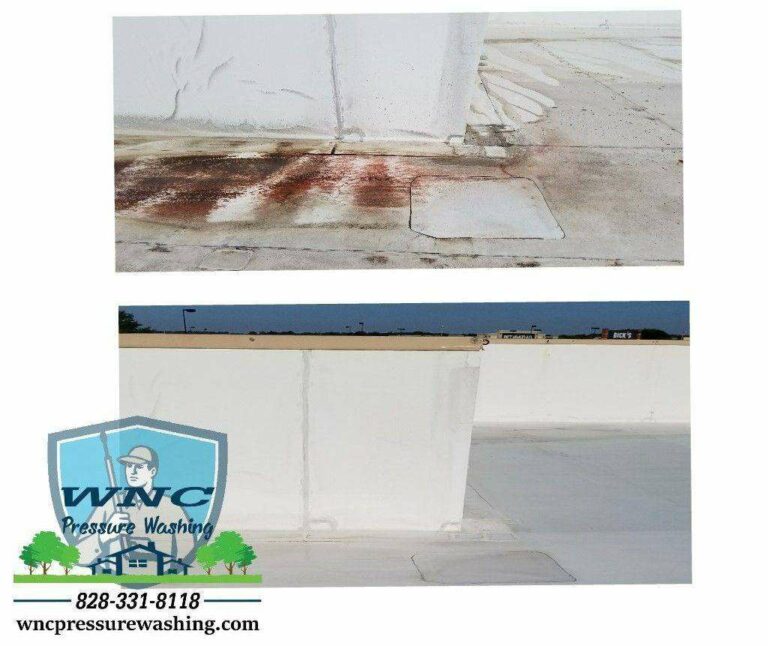 Membrane Roof Cleaning


Done Right
Our team of professionals work relentlessly with one goal in mind. 
That is to exceed your expectations and help transform your home or business to a breathtaking level.