Commercial Pressure Washing Cashiers, NC
Let us help you with our Top-Rated Exterior Cleaning Today!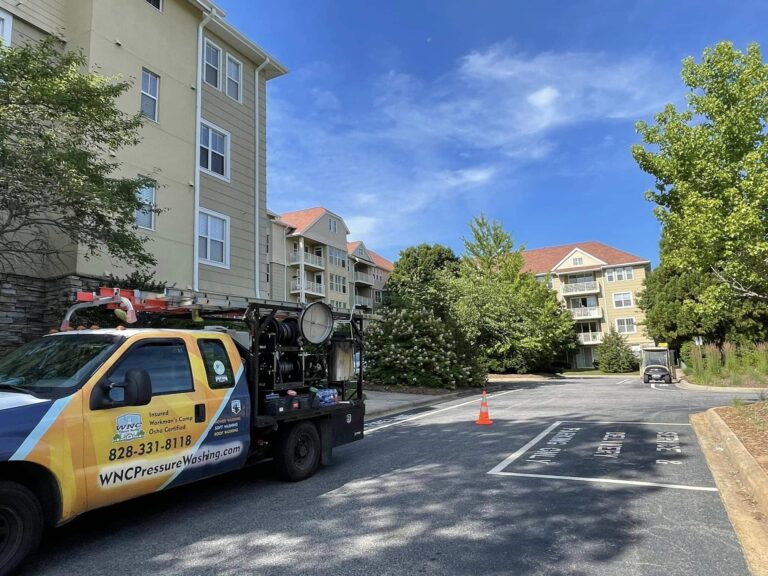 Why Should You

Consider Commercial Pressure Washing?
WNC Pressure Washing and Roof Cleaning is your #1 Choice
Are you looking for a way to spruce up your place of business? Maybe your property isn't looking as pristine as you think it should be. To breathe new life into things, you might want to consider hiring a company that does commercial pressure washing. Don't Google "commercial pressure washing near me." Instead, call the team at WNC Pressure Washing and Roof Cleaning in Cashiers, NC. 
Commercial pressure washing your property means that you can get a thorough cleaning of the exterior of your building, parking lot, and any other area of your business where things like mold and other kinds of buildup can occur. Contact us at 828-331-8118 to learn more about our commercial exterior cleaning services.
There are two main reasons why you should consider hiring our commercial power washing company. The first has to do with time and equipment. While residential homeowners should invest in routine pressure washing, they don't need to do it to maintain appearances nearly as often as commercial business owners do. If the outside of a house or driveway is a little worn down, it's only the residential homeowner who has to deal with it. That's not true for commercial businesses or property owners who may be continually showing property or trying to get new customers. 
As a commercial business owner, it matters what your property looks like because it helps inform someone's perception and buying decisions. If the front of your building is covered in dirt or grease, it may deter some people from entering, let alone using your services. All of this leads to the importance of renting a pressure washer, but that ends up being very costly.
In addition to renting the actual pressure washer, you're also going to have to get the cleaning solutions, move everything out of the way, and do the actual task. Simply put, taking a DIY approach to pressure cleaning in Cashiers is expensive and time-consuming, especially if you've never used a pressure washer before.
Expert

Commercial Pressure Washing Cashiers, NC
WNC Pressure Washing and Roof Cleaning Has you covered
This brings us to our next point, which is that sometimes the damage is too severe or too big to benefit from a simple wash down with a rag. Take a commercial fleet, for example. Trying to clean this yourself would be an impossible task! The same applies to tall buildings and large parking lots. Sometimes, you just need a pressure washer to make the job easier to conduct. Likewise, pressure washing is suited for all types of stains, including graffiti.
You might be asking if hiring a commercial power washing in Cashiers, NC is right for you. Pressure washing is suitable for any type of commercial property, including restaurants, hotels, apartment complexes, schools, gas stations, outdoor cafes, and retail stores. Likewise, pressure washing can even be used to help clean up construction sites in Cashiers. 
In addition to being suitable for all types of properties and establishments in Cashiers, NC, pressure washing is beneficial for extending the life of your building's structures. Harmful growth, like moss, mold, and algae, can not only leave behind stains, but they can damage your roof's shingles and even your awnings. This puts them at risk of collapse, as well as rotting and other types of damage.
The longer harmful contaminants or growth sit on your building, roof, awning, or concrete parking lot, the easier they'll be damaged. All this does is leave you with even more costly bills and repairs that may make it impossible to keep your business's doors open for a while.
Professional Exterior Cleaning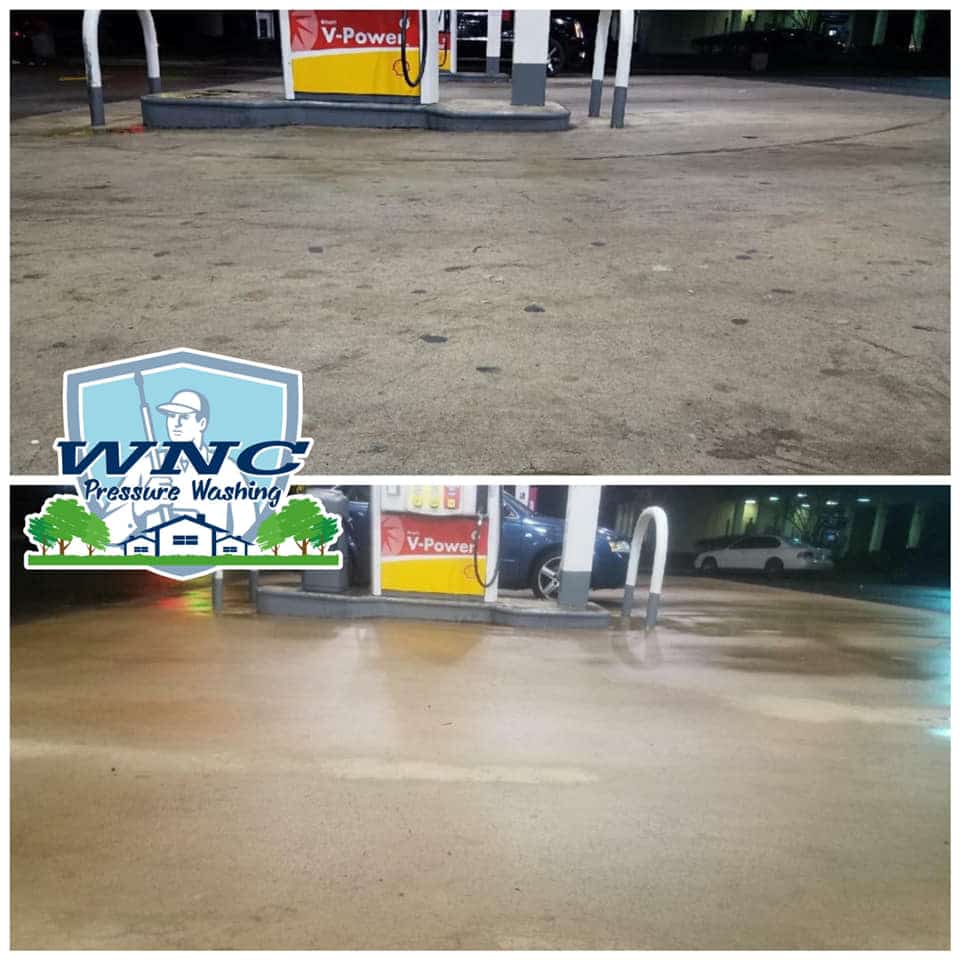 Top Rated

Parking Lot Pressure Washing
WNC Pressure Washing and Roof Cleaning Is All you Need
By hiring an expert, you can trust that you're not only getting a thorough clean, but you're also having the right kinds of cleaners used. For example, citric acid is usually used to remove tough stains on concrete parking lots whereas awnings will utilize a cleaning solution specifically designed to work with the material.
Using the wrong cleaning solution can cause accidental damage, as different solvents are specifically designed to work with specific materials. Before we get started on parking lot power washing or commercial concrete cleaning, we'll inspect your property so we're only using the correct cleaning solutions.
Like the rest of your commercial property, your parking lot takes a beating. Not only is it constantly being exposed to harsh weather conditions, but it's also dealing with the weight of heavy vehicles and any liquids those vehicles leak – i..e oil, grease, or even coolant.
Not only can the weight of these vehicles lead to cracks and other types of damage if the concrete wasn't sealed properly, but it can lead to stains. If your parking lot is made out of dark asphalt, this might not be a huge deterrent. However, it can be if you have any other color, like beige. These stains not only look bad but oil and grease can seep into the concrete and cause it to crack.
Contact Your Cashiers

Commercial Pressure Washing Team at WNC Pressure Washing and Roof Cleaning
WNC Pressure Washing and Roof Cleaning Is All you Need
Call WNC Pressure Washing and Roof Cleaning to keep your parking lot safe and in top-tier shape. You take great pride in your commercial property. Give it the clean it needs with the experts at WNC Pressure Washing and Roof Cleaning.