Top-Rated Solar Panel Cleaning
Maximize the efficiency and output of your solar panels 
with our meticulous Solar Panel Cleaning service.
WHY CHOOSE
WNC PRESSURE WASHING?
At WNC Pressure Washing, we always put our customers first, that is why insure all of our services. We want to make your experience as safe as possible.
We are a veteran-owned business that has been serving our community area for many years. We are dedicated to providing our customers with the highest quality service possible.
WNC Pressure Washing is the one-stop shop for all your exterior cleaning needs. We understand the importance of ensuring your home is clean and safe for your family.
Want Top Rated

Solar Panel Cleaning Services?
WNC Pressure Washing and Roof Cleaning has got you covered
WNC Pressure Washing provides top rated solar panel cleaning services, ensuring a thorough cleaning without causing any damage to your property.

We use high quality biodegradable solutions to eliminate dirt, mold, algae, mildew, and other contaminants from your solar panels.

Tailored to the unique needs of your business, providing you with a custom cleaning solution that fits your individual needs.

With WNC Pressure Washing, you can rest assured knowing that your solar panels will be cleaned safely and efficiently without any risk of damage.

We are committed to providing our customers with the highest level of satisfaction, and our team of experienced professionals will go above and beyond to ensure you are happy with the results.
Looking for Expert

Solar Panel Cleaning with no compromise?
WNC Pressure Washing and Roof Cleaning can help
Solar Panel Cleaning Is An Effective, Safe And Long-Lasting Cleaning Solution
It Uses Low-Pressure Water And Special Cleaning Solutions To Remove Bacteria, Mold, Mildew And Dirt
An Environmentally Friendly Solution As It Uses No Hazardous Chemicals
Helps To Protect Your Property From Future Damage Due To Mold, Mildew And Other Contaminants
Restore The Original Effectiveness Of Your Solar Panels, Decreasing Energy Costs
Solar panel cleaning in general requires very little maintenance since there are not many moving parts. A few times a year, your solar panels should be inspected for any pollen, grime, mold, or dirt that may have collected on them. For the DIYer, a general cleaning can be done by simply using a garden hose to wash the face of the panels in either the early morning or in the evening. Avoid spraying cold water onto hot panels or you could risk cracking them! There are also automated cleaners that work similarly to sprinklers, which can be programmed to clean your panels as needed, a good choice if you're in a dusty area that requires monthly maintenance.
Most customers just call the professionals at WNC Pressure Washing to clean the solar panels and sit back, relax and watch us clean them. Contact us to schedule an appointment with one of our professional cleaners. We are the better choice for solar panels that are too high to reach well with a garden hose or if you want more thorough cleaning. Ask about our solar panel maintenance program. It is the best way to make sure they are always producing efficiently.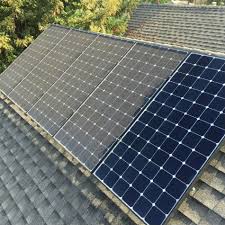 your Satisfaction guaranteed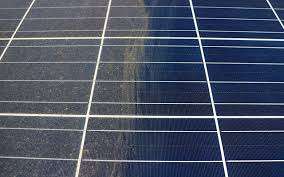 Do You need Professional

Solar Panel Cleaning?
WNC Pressure Washing and Roof Cleaning is all you need
We offer premier solar panel cleaning for commercial and residential areas including school rooftops, supermarkets, breweries & all other industrial properties. We offer flexible hours of service if access is needed in any public area. We can increase your solar panel efficiency with WNC Pressure Washing's solar panel cleaning service. Dirt, pollen, and grime can decrease the output of solar energy by blocking the UV on the surface of the panel. Get the most from your solar panels and save more money on electricity by keeping them maintained.
At WNC Pressure Washing, we take great pride in our work and in providing the best services to our customers. We understand that our customers have different needs and we strive to meet those needs with our quality services. If you are looking for the best solar panel cleaning services near you, look no further than WNC Pressure Washing. Contact us today to find out more about our services and how we can help you keep your property looking its best.
Searching for

Expert Solar Panel Cleaning Near me?
WNC Pressure Washing and Roof Cleaning is all you need
Solar panels are likely one of the biggest investments most people will make. In the Asheville area where mold and mildew are a constant issue, regular solar panel cleaning can help to prolong the life of your investment and restore original efficiency! Mildew, algae, and other biological growths can attack surfaces and shorten the lifespan of solar panel tiles. 
High-powered pressure washing is not the answer when it comes to cleaning your solar panels. Gentle soft washing with the proper chemical mixture can be used to give optimal results. Our special blends actually kill the mold and mildew while pressure washing with only water will not kill the nasty mold. Cleaning is NEVER a "one size fits all" proposition. At each property, we custom blend the solution that is appropriate for the surfaces we are cleaning. This helps to ensure we do not damage any plants or shrubs during our solar panel cleaning process.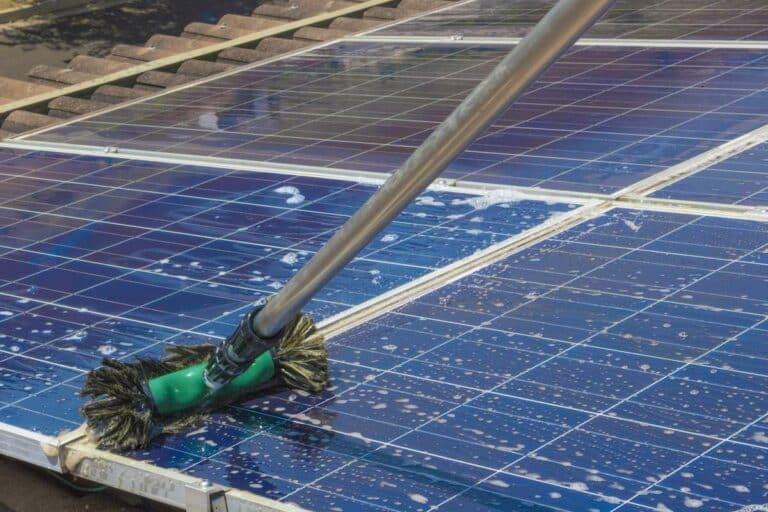 Solar Panel Cleaning


Done Right
Our team of professionals work relentlessly with one goal in mind. 
That is to exceed your expectations and help transform your home or business to a breathtaking level.