Pressure Washing Cashiers, NC
Let us help you with our Top-Rated Exterior Cleaning Today!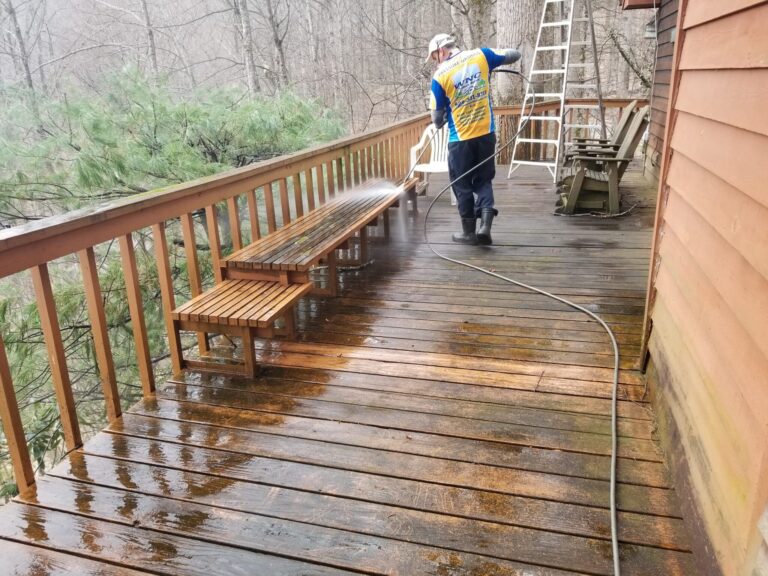 Top-Rated Pressure Washing

in Cashiers, NC
WNC Pressure Washing and Roof Cleaning is your #1 Choice
When your carpets get dirty, you vacuum them. When the dishes get dirty, you toss them in the dishwasher. But what do you do when your driveway is covered in grease stains, or the side of your house is covered in black streaks, or worse, mold? Treating these things isn't as simple as just grabbing a bucket with soap or water or your regular household cleaner. Common stains that benefit from professional pressure washing usually don't even respond to these types of cleaners!
When you're dealing with an outside mess you can't treat on your own, turn to WNC Pressure Washing and Roof Cleaning in Cashiers, North Carolina. Our pressure washing company comes highly rated. Whether you need to clean your concrete driveway, brick walkways, fence, patio, or the exterior of your house, a company like WNC Pressure Washing and Roof Cleaning can help you with all your pressure washing needs. 
Pressure washing is one of the most common forms of exterior cleaning services. Pressure washing is conducted with a pressure washing machine and a hose that pumps out highly-pressurized water, usually up to 3,000 PSI (though it can be more than this for commercial-grade machines).
Because of how powerful this water is, it can be used to get up all types of stains and natural growths including grease, oil, moss, mold, algae, and even chewing gum, which is a lot more challenging to get rid of than you might realize! Furthermore, pressure washing is safe enough to use on precast concrete, brick, stucco, and natural stone.
It's because of this that pressure washing can be used for several areas of your property, not just your home. If you're interested in scheduling an appointment for pressure washing in Cashiers, NC, give the crew at WNC Pressure Washing and Roof Cleaning a call. We can be reached at 828-331-8118.
How to Prepare for Your

Pressure Washing Service and What to Expect
WNC Pressure Washing and Roof Cleaning Has you covered
Before your pressure cleaning service, you're going to want to move some things out of the way that you don't want to get damaged. For example, move any bikes or loose chairs, so they're not in the line of the water.
But this isn't all! You're also going to want to cover any electrical units outside, as well as trim down any plants that are touching either the exterior of your house or fence. While you don't have to do this, it's recommended because 1.) the water will likely damage them anyway, and 2.) you won't be getting a thorough clean if there are scraggly plants in the way. If you have questions about what you should do to prepare for your pressure washing service in Cashiers, NC, give us a call at 828-331-8118.
At your pressure washing appointment, your technician will have all the proper tools and equipment to get the job done, including the pressure washer itself, the right size hoses and nozzles, protective safety gear, and the proper cleaning solutions.
When applying the water, they will blast the nozzle in an upward pattern to avoid unsightly streaking. Then, they will have the cleaning solution sit for a little while to work through any stuck-on stains. Once that time is up, they'll blast the water at the surface again, only this time from the top, and then work their way down (again to remove ugly streaks). This process is conducted over and over until the surface is clean and free of streaks and loose debris/harmful growths like mold.
In total, your power washing service should only take a few hours. Of course, this brick, stucco, or concrete cleaning could take longer depending on the size of your property and how much you want to get cleaned. Call WNC Pressure Washing and Roof Cleaning instead of Googling "power washing near me."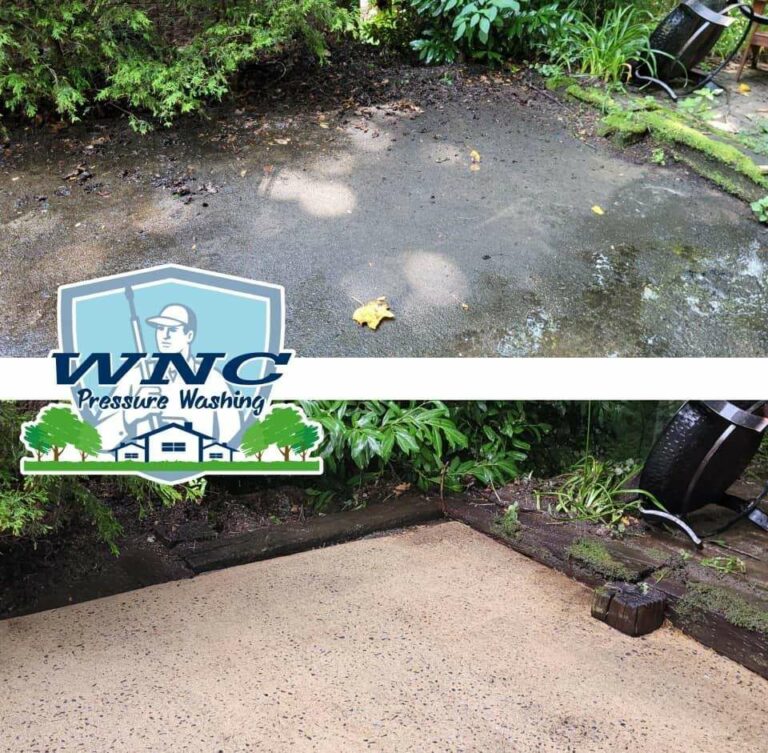 Professional Exterior Cleaning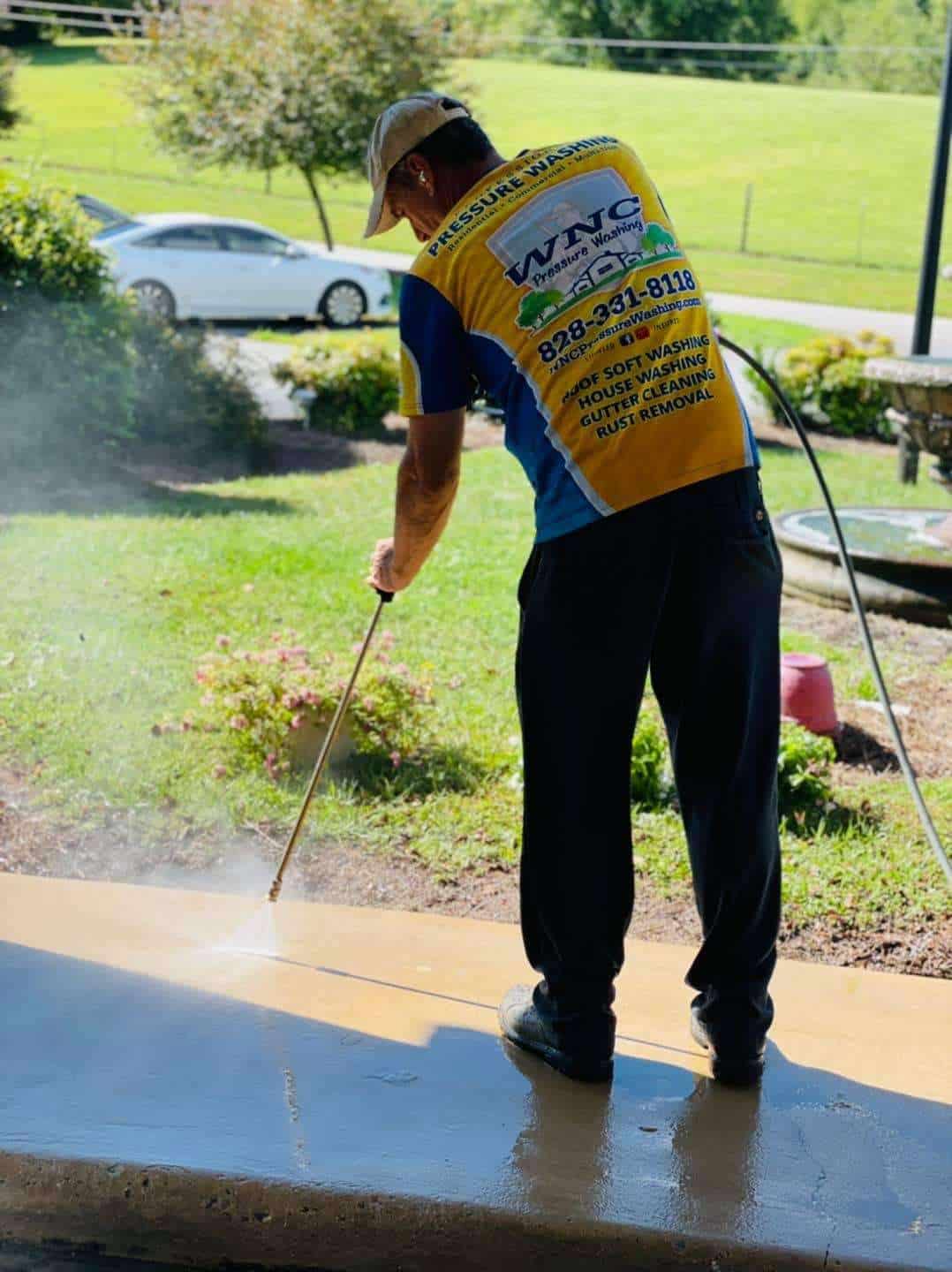 Our Expert

Pressure Washing Service in Cashiers, NC
WNC Pressure Washing and Roof Cleaning Is All you Need
So far, we've touted the benefits of pressure washing for hard, stuck-on stains. And, yes, pressure washing is great for removing these! However, you don't need to have years and years of stuck-on stains to benefit from power washing in Cashiers, NC.
Pressure washing can help take care of everyday stains and dirt that just occur naturally from having constant exposure to the elements. Since pressure washing can be performed quickly, it's recommended to get it every six to 12 months just to maintain your home's curb appeal.
This makes pressure washing one of the best maintenance services you can get before North Carolina's rainy season rolls in, before a birthday party, summer barbeque, or any other time you have guests over.
Find the

Exterior Clean Your Need in Cashiers, NC
WNC Pressure Washing and Roof Cleaning Is All you Need
There's no better time to invest in comprehensive exterior cleaning. If you're ready to get started, then give our Cashiers cleaning crew at WNC Pressure Washing and Roof Cleaning a call at 828-331-8118. Our technicians are all trained on how to properly spray, wash and sanitize.
Experience the difference with WNC Pressure Washing and Roof Cleaning today!