Top-Rated Awning Cleaning
Our Awning Cleaning service is designed to remove dirt, stains, and debris,
bringing back the beauty of your awnings and enhancing the overall aesthetic of your space.
WHY CHOOSE
WNC PRESSURE WASHING?
At WNC Pressure Washing, we always put our customers first, that is why insure all of our services. We want to make your experience as safe as possible.
We are a veteran-owned business that has been serving our community for many years. We are dedicated to providing our customers with the highest quality service possible.
WNC Pressure Washing is the one-stop shop for all your exterior cleaning needs. We understand the importance of ensuring your home is clean and safe for your family.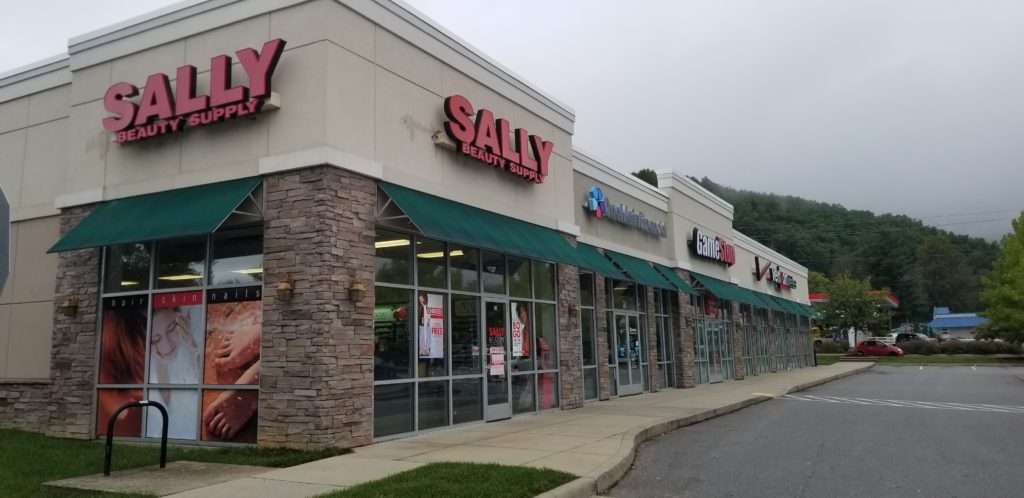 Want Top Rated

Awning Cleaning Services?
WNC Pressure Washing and Roof Cleaning has got you covered
Our Awning cleaning solutions retain colorfastness and ensure longevity

Our treatments can repair and strengthen decaying fabrics

All of our awning cleaning products are non-toxic, biodegradable, and guaranteed safe on any awning

We inspect the awnings hardware and fabric prior to cleaning

We work around your business schedule to minimize your inconvenience

We can provide restoration and water-repellent treatments
Looking for Expert

Awning Cleaning with no compromise
WNC Pressure Washing and Roof Cleaning can help
Awning Cleaning Is An Effective, Safe And Long-Lasting Cleaning Solution
It Uses Low-Pressure Water And Special Cleaning Solutions To Remove Bacteria, Mold, Mildew And Dirt
An Environmentally Friendly Solution As It Uses No Hazardous Chemicals
Helps To Protect Your Property From Future Damage Due To Mold, Mildew And Other Contaminants
Restore The Original Beauty Of Your Awning, Improving Its Appearance And Value
Awnings are great for enjoying beautiful days without having to expose yourself to the harsh rays of the sun. Awnings will, however, begin to break down if you don't clean them properly. Typically, you will just need a cleaning solution, brush, water, and a ladder to complete the cleaning. Whether you have a canvas, vinyl, or aluminum awning, doing a regular cleaning will keep it in good condition for protection from sunny days to come. If you decide that you do not have time then give us a call and see how our awning cleaning service is top-notch.
At WNC Pressure Washing, we specialize in soft washing, a low-pressure awning cleaning technique designed to gently and effectively remove dirt, grime, and mildew from your commercial awning. We use a specialized combination of detergents and sanitizers, along with low-pressure water, to safely and effectively remove dirt and grime without damaging your awnings. Our team of experienced and knowledgeable technicians has the expertise and experience to safely and effectively tackle any awning cleaning job. We are committed to providing our customers with excellent customer service and quality workmanship, so you can be sure that the job will be done right the first time.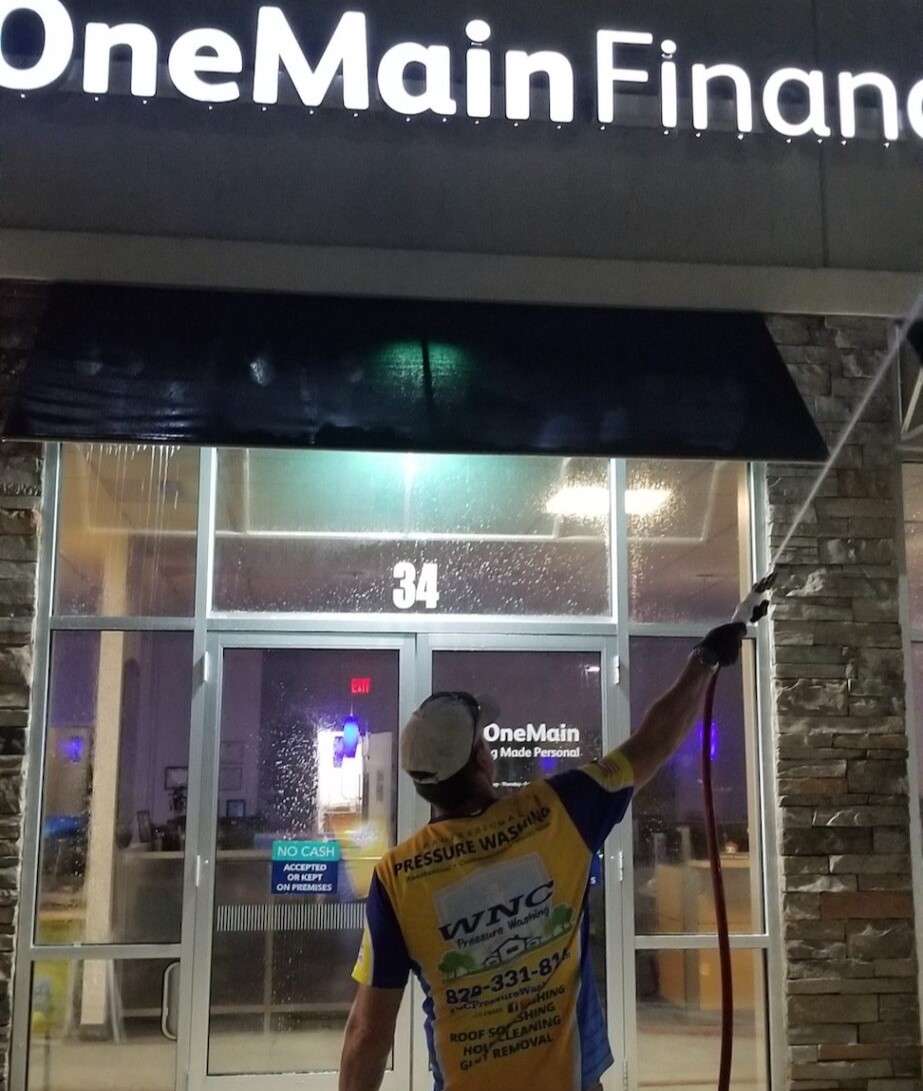 your Satisfaction guaranteed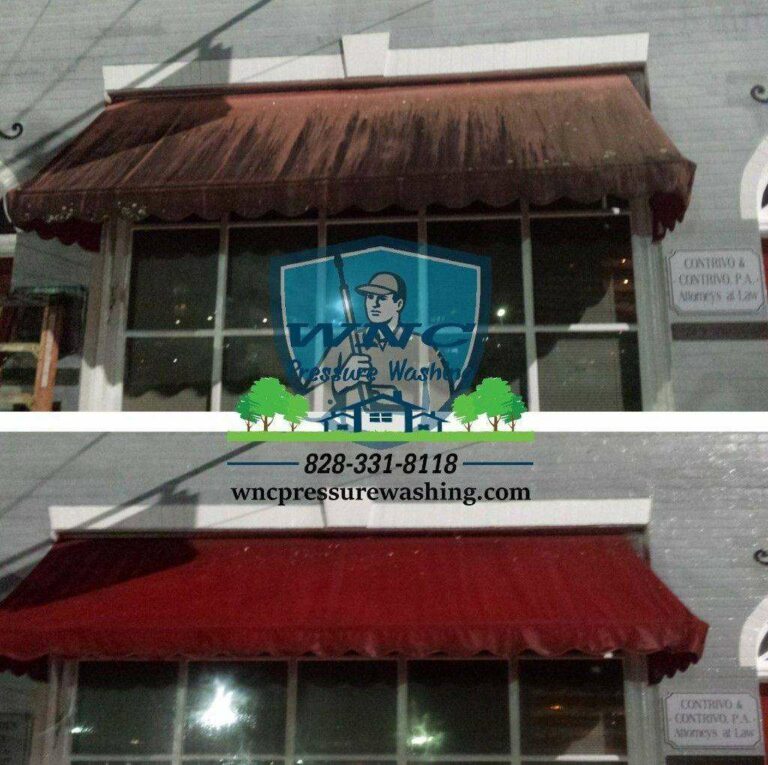 Do You need Professional

Awning Cleaning?
WNC Pressure Washing and Roof Cleaning is all you need
Most commercial Awnings are created from synthetic fabrics that are of the best quality so they should last a long time. However, it will wear down faster if you don't take proper care of it. A regularly scheduled awning cleaning is the first step. WNC Pressure Washing and Roof Cleaning will clean the awnings during off-peak business hours or when the businesses are closed. We inspect the awning's hardware, as well as fabric prior to cleaning.
Awning cleaning not only keeps your property looking beautiful, but also increases your building's lifespan, saves energy, and is eco-friendly. Most importantly, awning cleaning kills harmful bacteria, keeping you and your family happy and healthy. Our team at WNC Pressure Washing is highly trained and experienced in commercial awning cleaning services. We understand the delicate nature of the surfaces that need to be cleaned and we use the right combination of pressure, detergents, and solutions to safely clean without causing any damage. We also use eco-friendly detergents and solutions to ensure that we are protecting the environment while providing the highest quality of service.
At WNC Pressure Washing, we take great pride in our work and in providing the best services to our customers. We understand that our customers have different needs and we strive to meet those needs with our quality services.
Searching for

Expert Awning Cleaning Near me?
WNC Pressure Washing and Roof Cleaning is all you need
If only it were that easy. A simple rinse, whether by a hose or Mother Nature, can't remove all the dirt and build-up on your awnings caused by everyday pollution. In reality, because of the condition of our environment, rainwater can have an acidic effect on the fabric, trapping the dirt and grime, and eating away at the threads holding your awnings together. Replacing an awning will cost much more than what you would pay for an entire year of service with us. This amount of savings can fit into anyone's budget.
High-powered pressure washing is not the answer when it comes to cleaning your commercial awning. Gentle soft washing with the proper chemical mixture can be used to give optimal results. Our special blends actually kill the mold and mildew while pressure washing with only water will not kill the nasty mold. Cleaning is NEVER a "one size fits all" proposition. At each property, we custom blend the solution that is appropriate for the surfaces we are cleaning. This helps to ensure we do not damage any plants or shrubs during our soft washing process. Our team of experts is experienced in awning cleaning and can help you decide what type of solution and pressure to use for your specific needs. We understand that each job is unique, so we take the time to assess your property and determine the best course of action. Our team is also happy to answer any questions you may have about the process and the results.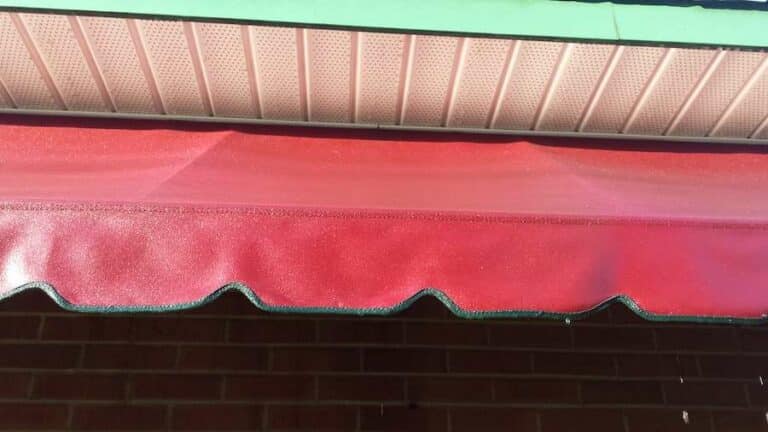 Awning Cleaning


Done Right
Our team of professionals work relentlessly with one goal in mind. 
That is to exceed your expectations and help transform your home or business to a breathtaking level.