Let us help you with our Top-Rated Exterior Cleaning Today!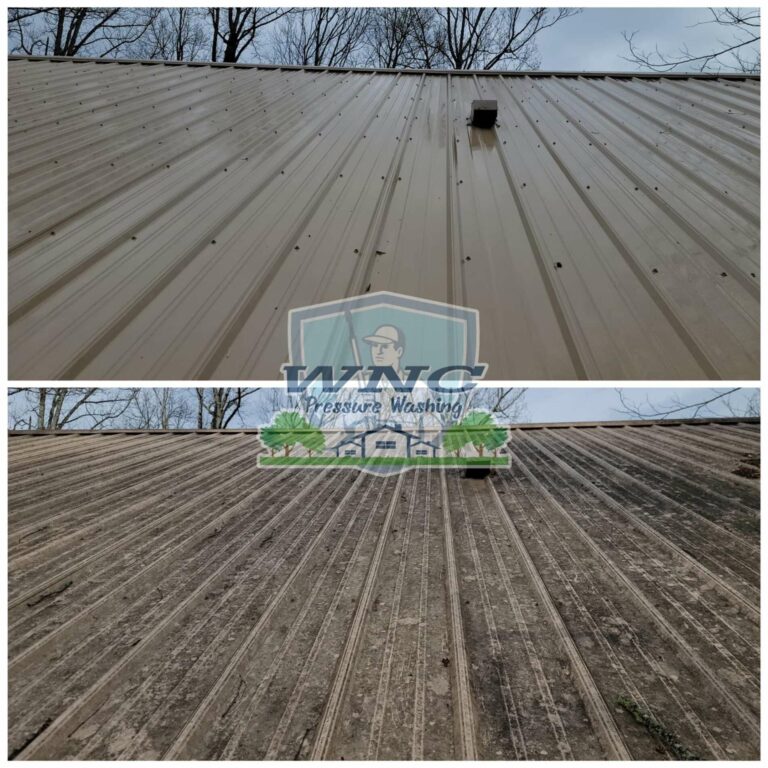 What is Roof Pressure Washing?

Do You Really Need It?
WNC Pressure Washing and Roof Cleaning is your #1 Choice
Did you recently pull up in your driveway and notice just how dirty and worn down your roof looks? Don't get startled by this! Instead, call the roof cleaning Canton, NC crew at WNC Pressure Washing and Roof Cleaning!
Even though your roof should be professionally cleaned at least once a year, it's one of those side projects that tend to get pushed off. After all, cleaning the top of your house isn't easy.
Whether you simply don't have the right tools and equipment or don't feel comfortable climbing those heights (understandable), you can trust us to get the job done right. Here's everything you need to know about the roof cleaning service provided by WNC Pressure Washing and Roof Cleaning: 
If you're wondering whether or not you need to invest in roof soft washing, the answer is yes. There are a few reasons for this. First and foremost, your roof is constantly being exposed to harsh natural elements, as well as birds, rodents, and insects. One such thing you may be dealing with is moss.
On its own, having a moss-covered roof doesn't sound or even look that bad. It may even look kind of pretty! However, moss can cause a ton of structural damage to your roof. This is because moss holds water. Over time and as moss continues to spread across your roof, this ends up putting a lot of damage on your roof's shingles, which could damage them and shorten their lifespan.
Furthermore, since the moss holds water, it can eventually lead to mold growth. This, if left untreated, can start to eat your shingles. In addition to moss and mold growth, your roof can also just be damaged as a result of bad storms. While roof pressure cleaning can't correct damage caused by bad rainstorms, a technician can notify you of damage so it gets corrected, hopefully before it gets too bad.
Benefits of Hiring a

Canton Roof Washing Service
WNC Pressure Washing and Roof Cleaning Has you covered
All of this brings us to the definition of roof pressure washing, which is the use of a high-pressure stream of water to blast away moss, mold, algae, and dirt from the top of your roof. If you need quality roof moss removal or roof power washing, the pros at WNC Pressure Washing and Roof Cleaning can help.
Now that you know what roof washing is and why it's necessary to preserve your roof, here are a few of the top benefits you should be aware of.
The more you clean your roof, the more likely you are to experience savings on your monthly energy costs. Your roof is designed to reflect the sunshine. If it is covered with moss, algae, or just a lot of dirt, your roof won't be as effective as it should be to keep your home cooler. As such, you could be spending a lot more on your monthly electric bill than you should be.
In addition to saving money on your energy bill, investing in Canton roof cleaning near me increases the overall value of your home. While it's normal for your roof to get dirty from time to time, letting dirt and grime sit can decrease your home's value. This could be problematic if you're trying to sell your house.
Whether you're about to list your home on the market now or in the future, professional roof washing in Canton, NC can increase its value by as much as 10 percent!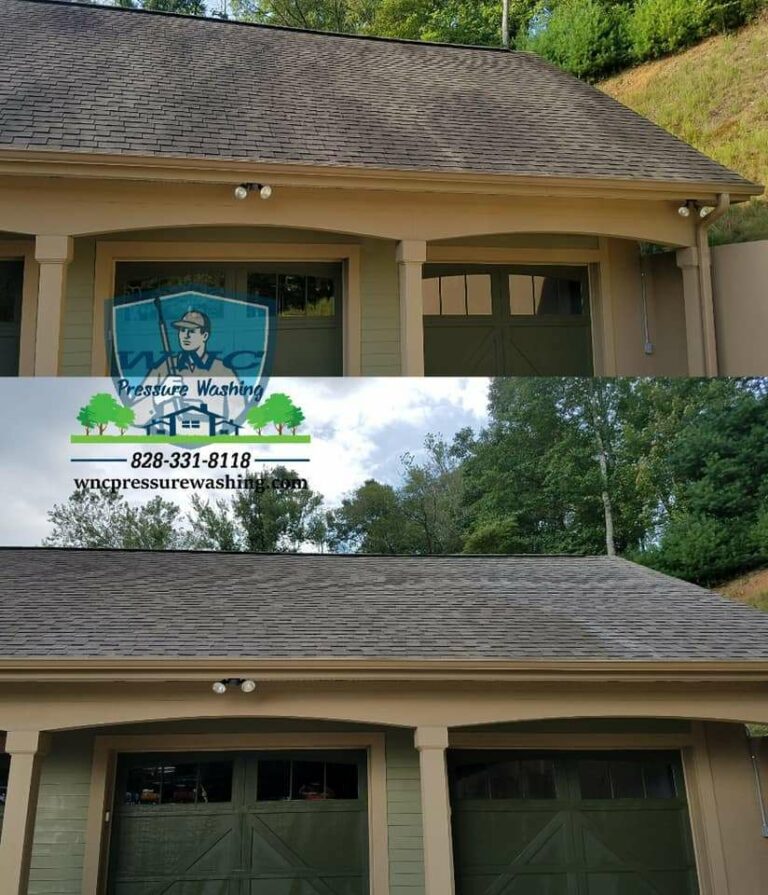 Professional Exterior Cleaning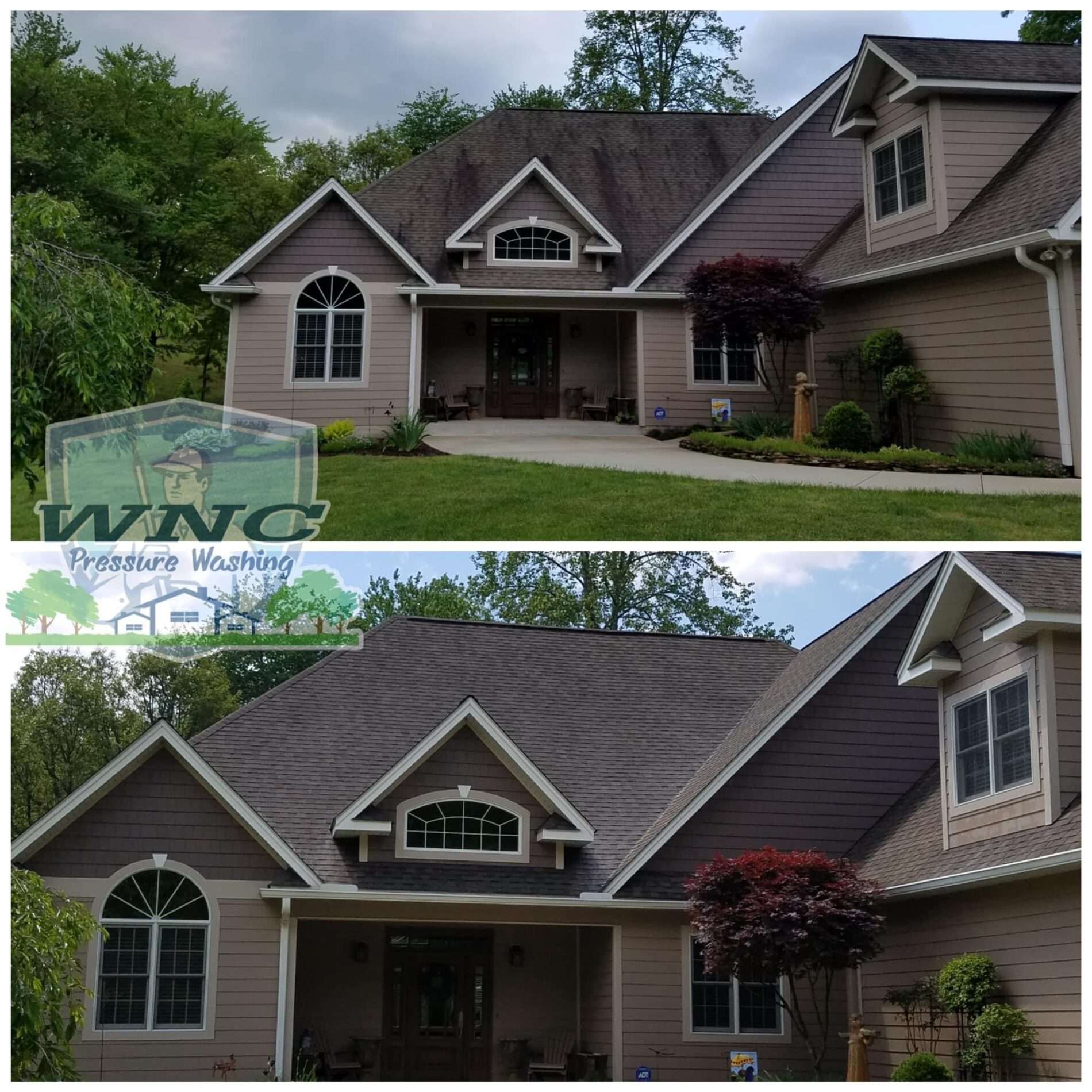 Experience the Joys

of a Clean Roof!
WNC Pressure Washing and Roof Cleaning Is All you Need
Having a clean roof isn't just good for your shingles and energy bills. It's also good for you and your home's curb appeal. Oftentimes, roofs will fall victim to a common type of algae called Gloeocapsa magma. This leaves big black streaks on your roof, which makes it look more dirty than it is. Unfortunately, over time Gloeocapsa magma will turn your shingles black. To fix this, you'll need to get new shingles, which can be costly. 
Searching For a Quality

"Roof Washing Near Me?"
WNC Pressure Washing and Roof Cleaning Is All you Need
Searching For a Quality "Roof Washing Near Me?" Let the Team at WNC Pressure Washing and Roof Cleaning Help! If you're ready to invest in quality roof washing in Canton, NC, turn to the team at WNC Pressure Washing and Roof Cleaning. We have years of experience cleaning roofs, and our cleaning methods are safe enough to use on a variety of roofing materials including vinyl, tile, metal, concrete, and asphalt. 
Contact us today at 828-331-8118 for a free quote on your next house washing service. Our team is happy to answer any questions you have about this process, including rate and time frame. Do you want to schedule additional services, like gutter cleaning or fence cleaning? Just let us know during the call or fill out our submission form on our homepage. Whatever you need, the pros at WNC Pressure Washing and Roof Cleaning can help.