Commercial Pressure Washing Canton, NC
Let us help you with our Top-Rated Exterior Cleaning Today!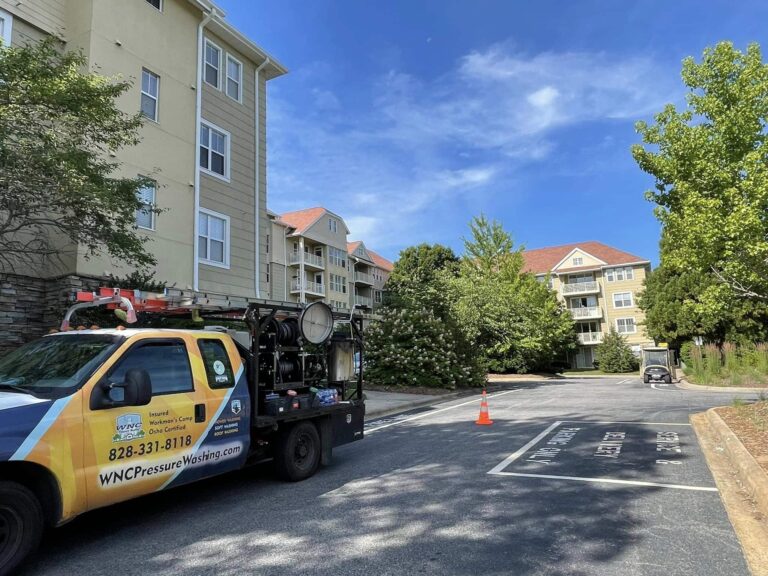 What is Commercial Pressure

Washing in Canton, NC?
WNC Pressure Washing and Roof Cleaning is your #1 Choice
A lot goes into owning a business or commercial property, which is why it's so beneficial to hire professional commercial exterior cleaning services. By hiring a professional, you're not only keeping more money in your pocket but you're also saving time that can be better spent on other important tasks, such as training, hiring, or even bookkeeping.
We are a veteran-owned and operated company with fully licensed and insured technicians. This is an important factor, especially for business owners, as you want to ensure that no liability falls on you. Give us a call at 828-331-8118 to make an appointment today.
Commercial pressure washing is the term used to describe regular pressure washing services, but on behalf of a commercial business or property as opposed to a residential property.
Pressure washing uses a high-pressurized stream of water to blast away dirt, oil, grease, and grime from the exterior of a building, parking lot, or dumpster pad. This term is often used interchangeably with power washing, which does the same thing but with heated water instead.
Though the result of both is the same, the amount of pressure used is often higher in commercial pressure washers. In most cases, commercial pressure washers use a PSI between 3,200 and 8.000, whereas residential pressure washers can use as little as 1,300 PSI. This means you're getting a deeper, more beneficial clean.
Commercial Pressure Washing

Services Done Right
WNC Pressure Washing and Roof Cleaning Has you covered
Commercial pressure washers are also a lot more durable and versatile enough to be used in a variety of environments, making them useful for commercial business owners in Canton.
If you're in the market for commercial power washing companies near me, turn to the commercial concrete cleaning crew at WNC Pressure Washing and Roof Cleaning.
Just like the interior of your business, the exterior of your building can fall victim to dirt and other types of grime. The big difference, though, is that while much of the dirt inside responds to traditional household cleaners, the exterior is much pickier. This is because the exterior surfaces of buildings are exposed to different elements than what occurs inside.
For example, the outside of your building may fall victim to moss and mold growth due to the weather and tree coverage. Furthermore, building exteriors may also fall victim to vandalism such as graffiti which can only be removed via commercial pressure washing.
These are just a few examples of the types of growth and damage that the exteriors of buildings experience and therefore benefit from the use of pressure washing. However, brick and concrete buildings aren't the only surfaces that benefit from this type of cleaning. Parking lots, driveways, and even dumpster pads benefit from them, too. These can quickly get dirty from moss and mildew, but also rust and grease stains.
With routine pressure cleaning, you can not only remove surface-level stains but keep damage from getting worse. This is one of the biggest benefits of hiring a professional.
Another big benefit of using a commercial pressure washing service is that they have the experience to get a job like this done. Far too often, different websites talk about how easy it is to do commercial pressure washing. But the reality is that using this high amount of pressure can be dangerous for someone who doesn't have experience.
Even worse, if not used properly, it may cause damage to your doors, windows, and other areas of your commercial property that will only lead to more money out of your pocket. Err on the side of caution and hire a professional parking lot power washing technician to get the job done correctly the first time.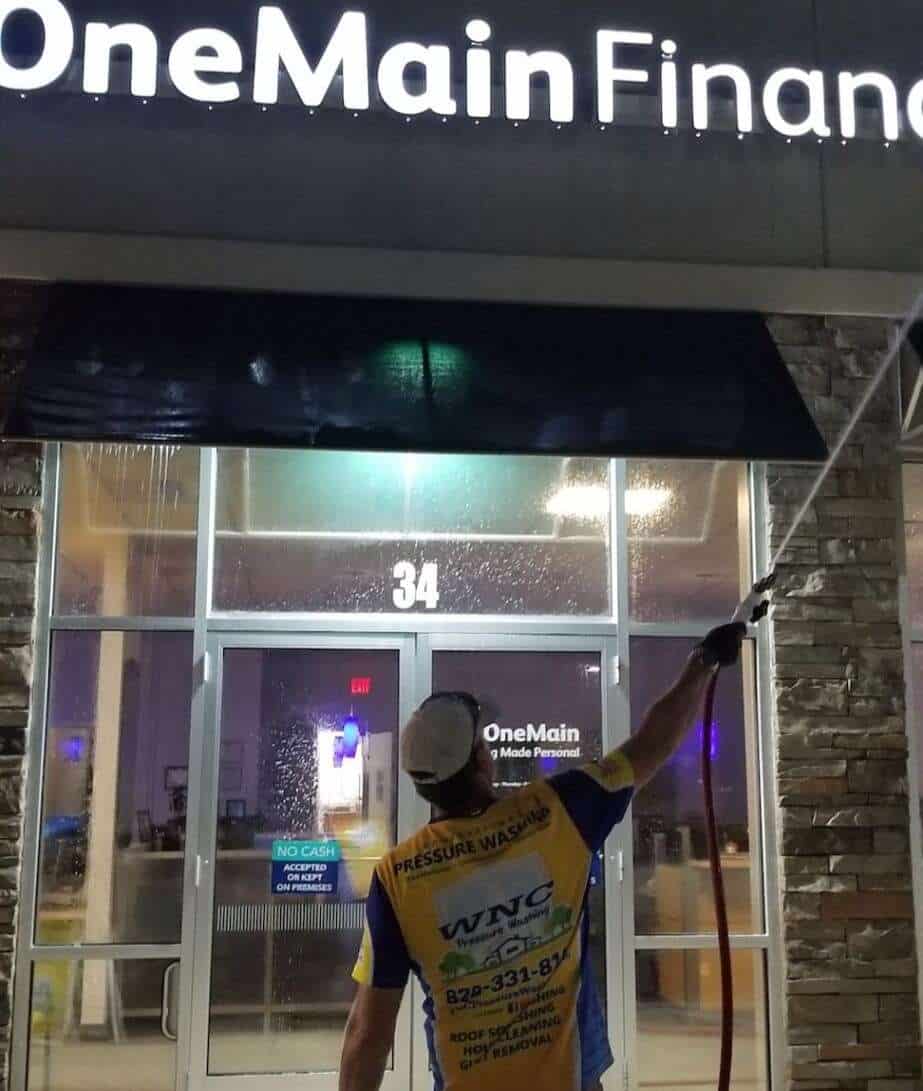 Professional Exterior Cleaning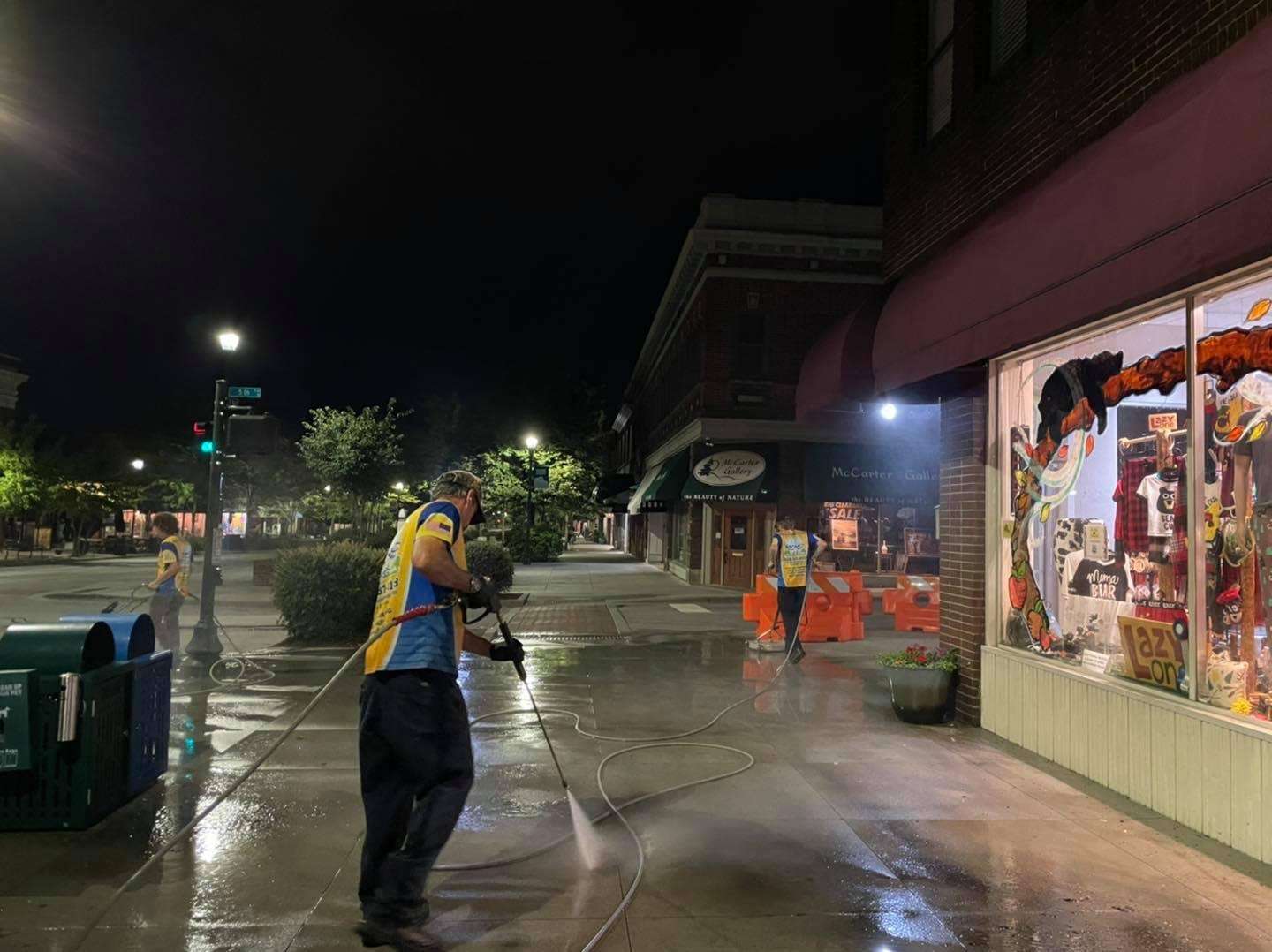 Quality Commercial Power Washing

Canton, NC Services
WNC Pressure Washing and Roof Cleaning Is All you Need
Commercial pressure washers often come with multiple hoses, so you can have a quality clean sooner. In most cases, pressure washing only takes a few short hours to complete. Best of all, it can be used to keep the exterior of your building clean for up to six months or a year.
How the outside of your building looks matters to maintaining a good reputation, as well as getting customers. With proper power washing, you can maintain appearances and by proxy, generate more revenue.
Don't Google "commercial pressure washing near me" or "parking lot pressure washing." Instead, contact the pros at WNC Pressure Washing and Roof Cleaning for a free quote.
Top Rated Pressure Washing and

Parking Lot Cleaning in Canton, NC
WNC Pressure Washing and Roof Cleaning Is All you Need
Whether you need your siding or parking lot cleaned, you will find nothing but quality services through WNC Pressure Washing and Roof Cleaning. We are proud members of the Canton community and strive to offer the very best pressure cleaning services in North Carolina. 
We welcome you to check out our reviews to see what customers, new and returning, are saying about our pressure cleaning services.