Let us help you with our Top-Rated Exterior Cleaning Today!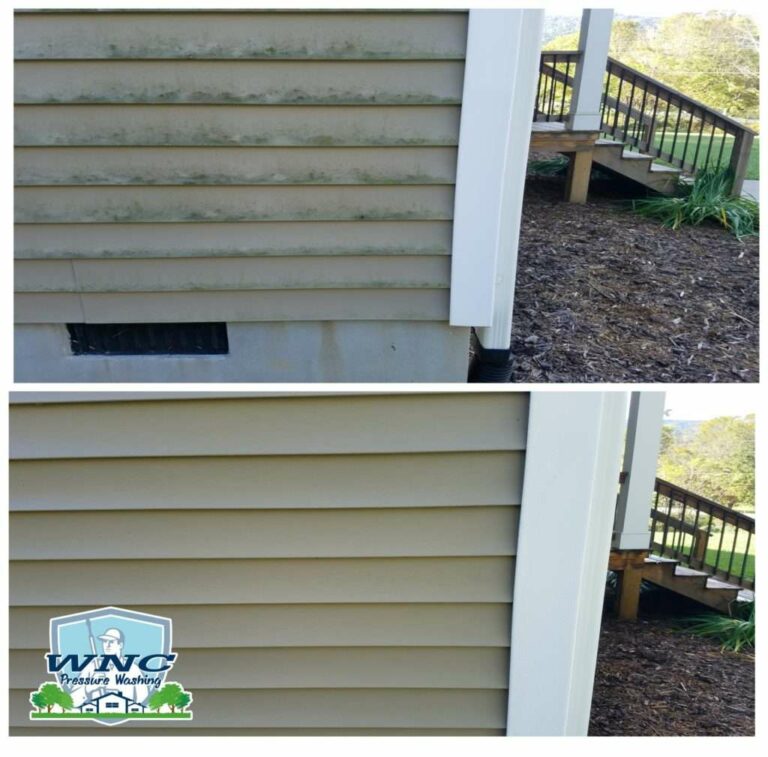 Expert House Washing Services

in Canton, NC
WNC Pressure Washing and Roof Cleaning is your #1 Choice
Wouldn't it be great if you could wash the outside of your house as easily as you do the floors inside them? Well, when you hire the exterior house washing team at WNC Pressure Washing and Roof Cleaning, it will be.
Just like the inside of your house, the outside gets dirty. And in most cases, how dirty it gets is out of your control. Rain, heavy winds, birds, insects, and tree coverage can all play a major factor in how dirty the paint, siding, or brick on your house gets. To get a quality clean at an affordable rate, look no further than our Canton-based house washing company. 
We have years of experience providing the proper house washing methods that will result in a fresh and clean exterior. Keep reading to learn more.
Before homeowners in Canton go forward with house washing, they usually have a few questions, with one of the most common being whether or not it is safe to use all types of materials. Generally speaking, the answer is yes.
House washing uses a popular cleaning method known as soft washing. Soft washing uses a low-pressurized stream of water and eco-friendly, biodegradable cleaning solutions instead of harsh chemicals. Because of this, house soft washing is safe enough to use on a variety of surfaces, including but not limited to stucco, paint, brick, and vinyl siding. 
Too much pressure, such as that used with house pressure washing, can harm vinyl siding. As such, your exterior house cleaning crew will consider the materials used on your house before determining the proper cleaning method. This includes conducting a thorough inspection of any holes or cracks in your siding and covering them up before starting the process. Leaving holes and cracks exposed can eventually lead to mold growth, which is the last thing we want.
Top-Rated House Power

Washing Canton, NC Services
WNC Pressure Washing and Roof Cleaning Has you covered
Many of the stains and issues affecting the outside of your home are too challenging for household cleaners to fix. However, they won't be any match for professional house washing in Canton, NC.
The cleaners used in house washing can get rid of really difficult, stuck-on stains such as: 
Gum

Algae

Dirt

Grease/oil

Lime deposits

Mold

Rust

Paint

Mildew

Calcium

Salt
Soft washing can also dislodge cobwebs and other nests caused by insects, birds, and rodents. If left untreated, things like mold can spread to other areas of your home, which could lead to sickness. Likewise, rust will not only detract from the natural beauty of your home but can lead to structural damage that will lead to more costly repairs down the line.
Because soft washing uses such a low-pressurized stream of water, it does a great job of getting to the heart of the issue. Instead of just wiping away the top surface of the mold, it will get all of it, so you're getting a deeper, more comprehensive clean than if you just used regular soap and water.
Before your appointment, we recommend moving plants, recreational equipment, and anything else you don't want to risk getting damaged. Even though soft washing uses less pressure than pressure/power washing, it still uses up to 300 PSI. If you're ready to move forward with a house washing service near me, give the team at WNC Pressure Washing and Roof Cleaning a call. We can be reached at 828-331-8118.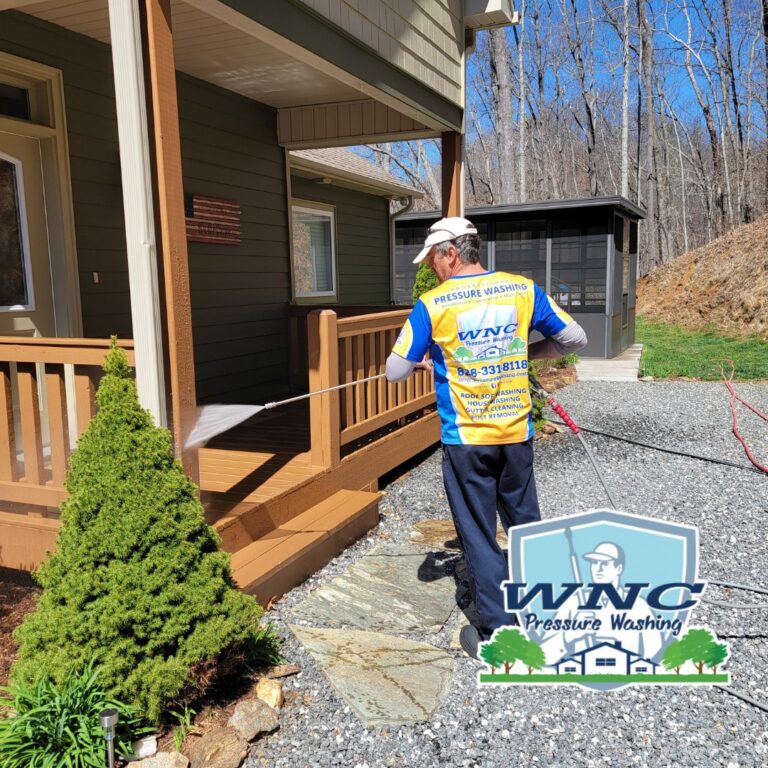 Professional Exterior Cleaning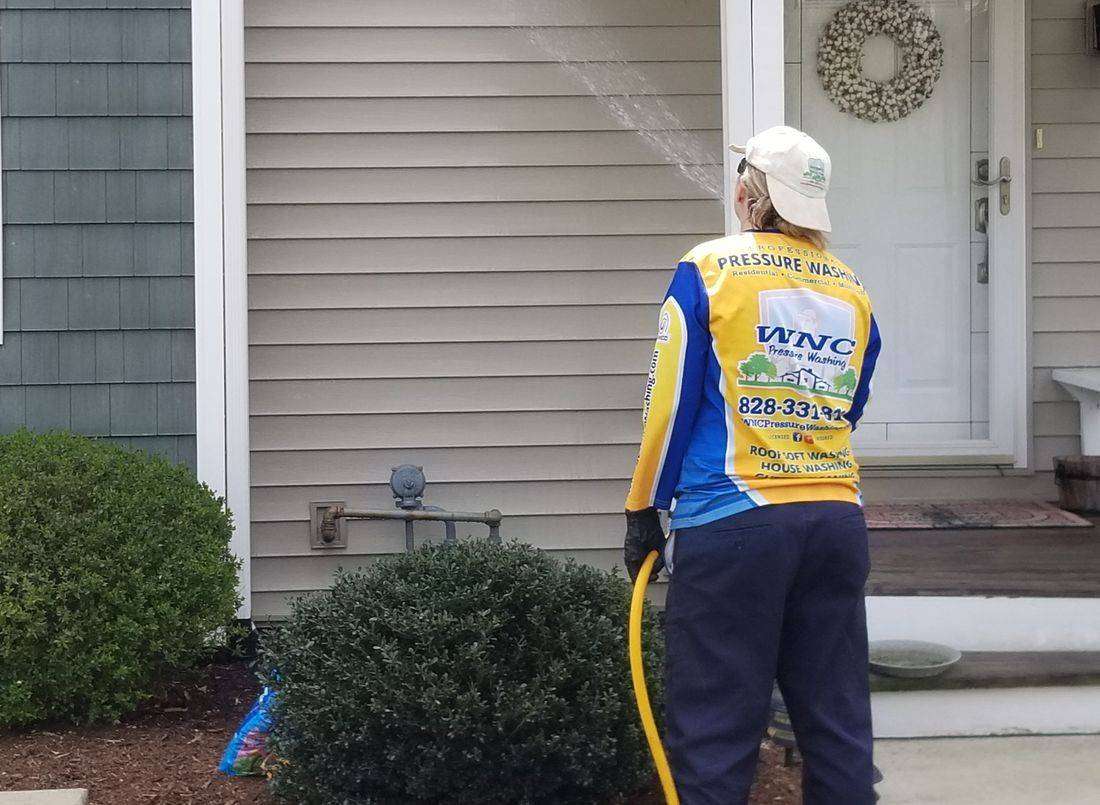 House Washing Can Improve

Your Home's Aesthetic
WNC Pressure Washing and Roof Cleaning Is All you Need
Just like any type of maintenance service, professional house washing can improve your home's overall aesthetics. Getting the exterior of your home professionally washed can increase its value by as much as 10 percent.
Even if you're not concerned with adding value to your home at this time, house washing can improve curb appeal. After all, coming home to clean home on both the inside and outside can be a big mental health boost and put you in a better mood.
Improve your home's curb appeal and overall aesthetic with the services from WNC Pressure Washing and Roof Cleaning today!
Searching for "Canton House Washing Near Me?"

Let Us Help!
WNC Pressure Washing and Roof Cleaning Is All you Need
WNC Pressure Washing and Roof Cleaning is a veteran-owned and operated business operating in Canton and throughout Haywood County, North Carolina.
Our services come highly rated. We welcome you to check out our gallery and reviews to learn more and to see what you should expect. If you have questions about house washing, give us a call at 828-331-8118. We're happy to give you a free quote on not just this service, but any additional ones you want to include such as pressure washing your deck or driveway, gutter cleaning, and roof cleaning.
A cleaner exterior is only one call away. Let the pros at WNC Pressure Washing and Roof Cleaning in Canton, NC help!