Pressure Washing Canton, NC
Let us help you with our Top-Rated Exterior Cleaning Today!
Top-Rated Pressure Washing

in Canton, NC
WNC Pressure Washing and Roof Cleaning is your #1 Choice
As a homeowner in Canton, NC, you already do so much to keep the exterior of your home looking nice. However, dirt buildup on some building materials like brick and siding may not always respond to regular household cleaners. In cases like this, you may want to consider pressure washing.
Pressure washing is a popular form of cleaning that is specifically designed to clean and remove dirt from tough, exterior surfaces like brick and concrete. Pressure washing uses a stream of highly-pressurized water to remove loose dirt particles, as well as mold, moss, algae, and even loose paint or cobwebs.
If you're considering finding a quality pressure washing company that's local to you in Canton, NC, don't type "Canton pressure washing near me" into Google. Instead, call the pressure cleaning service crew at WNC Pressure Washing. We can be reached at 828-331-8118. 
If you're ready to hire a pressure washing service in Canton, NC, you may stumble on some websites that advertise power washing. While the result of pressure and power washing are the same, there are some notable differences between these two cleaning methods.
Difference Between Pressure Washing

and a Power Washing Service
WNC Pressure Washing and Roof Cleaning Has you covered
As mentioned above, pressure washing uses a high-pressurized stream of water to blast away grime and dirt. Power washing does the same thing, but instead, actually heats the water. As such, power washing is better suited for really stuck-on grime like mold, salt, and gum. Furthermore, power washing is also great for getting rid of oil and grease stains on driveways.
If you aren't sure what cleaning method is right for your situation, give our concrete cleaning team a call at 828-331-8118. Whether you need power washing in Canton, NC, or pressure cleaning, you can trust us to use the proper equipment and leave you with a sparkling clean.
When you hire someone for proper pressure cleaning, you're likely going to have a few questions about what to expect from the process. One of the first questions our customers ask us is how long the process takes. Generally speaking, pressure washing should take anywhere between a half hour and two hours. Keep in mind that this timeframe is going to depend on several factors, including how big your property is, how many areas are being treated, and how severe the damage is. 
For example, if you're pressure washing the exterior of your brick house, but also want to power wash your concrete driveway to remove grease stains, this appointment may take several hours. This leads to the next commonly asked question, which is how long the effects of pressure cleaning last.
In most cases, the results of your professional Canton pressure cleaning services will last for six months to a year. Like the process itself, the long-lasting results will depend on where you're located. For example, if you're living in a heavily shaded area, your area may experience more mold and moss growth. As such, you may need to get pressure cleaning done a bit more often.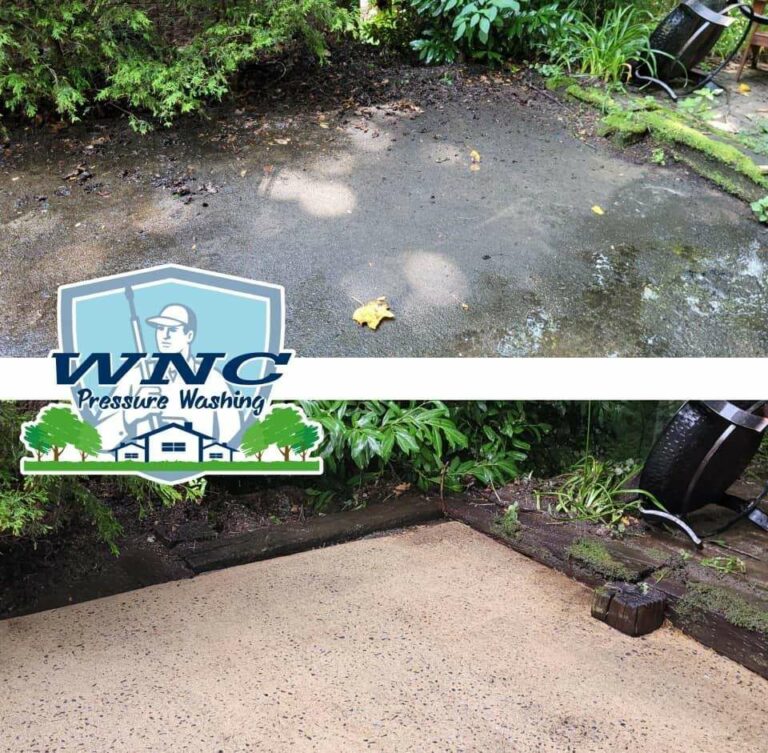 Professional Exterior Cleaning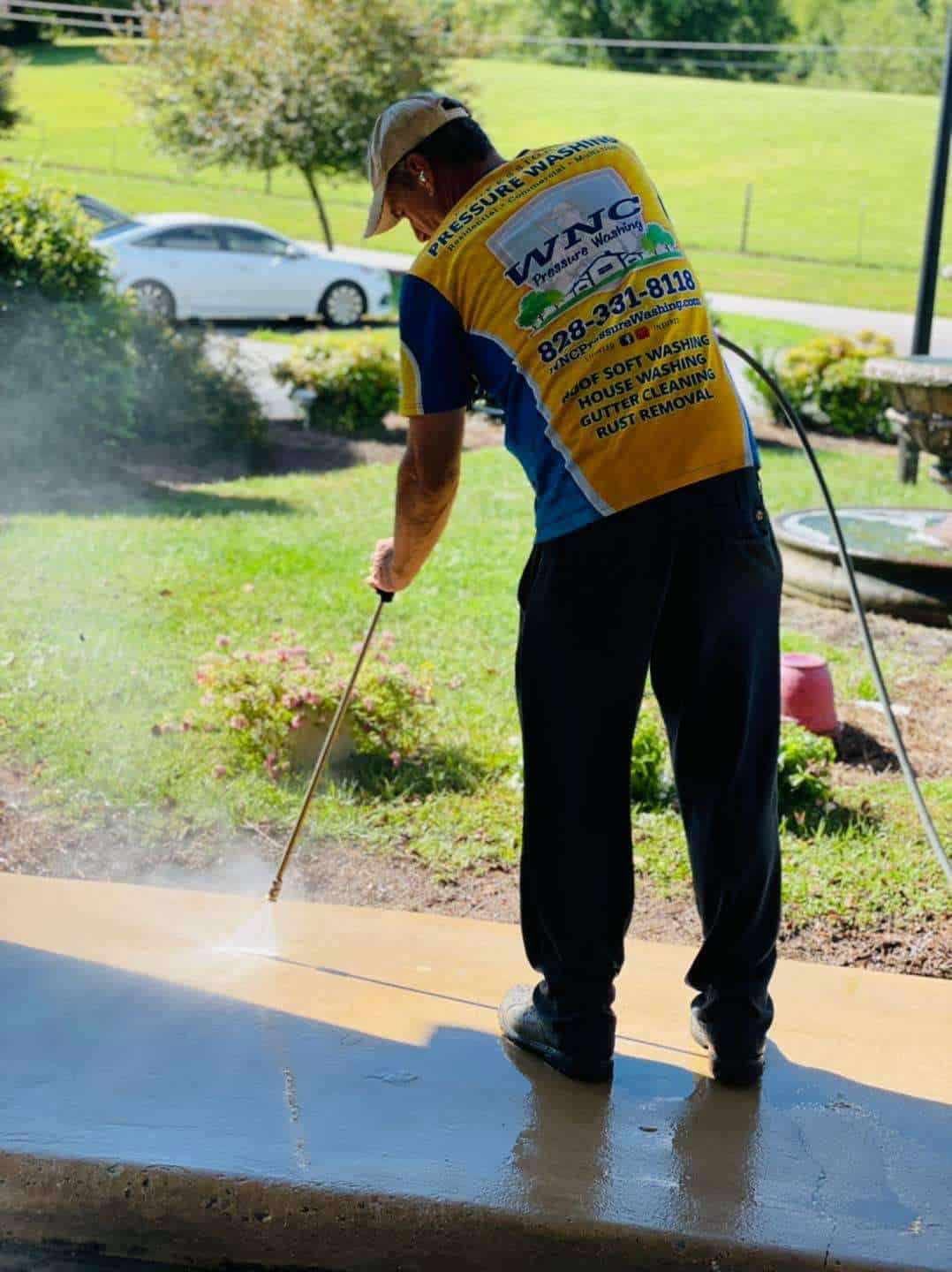 Top Rated Pressure Cleaning

Services in Canton NC
WNC Pressure Washing and Roof Cleaning Is All you Need
Of course, the biggest benefit of pressure cleaning is that it leaves you with a clean exterior home. However, there are several other benefits to hiring a professional you should consider, too.
One such benefit is the minimization of mold. Not only does mold growing on the exterior of your home look bad, but it can be quite harmful to you and the rest of your family. By getting professional pressure cleaning, you can remove mold that could otherwise trigger allergies and other physical ailments, such as insomnia.
The second benefit to hiring expert pressure cleaning services in Canton, NC is that it takes the pressure of you having to do it yourself. Pressure cleaning equipment is expensive. Even if you rent it, it's a lot of money. Furthermore, if you're not familiar with using this amount of pressure, you could hurt yourself or damage your home. Basic pressure washings use around 3,100 PSI.
So to protect yourself and your home, you should hire a professional power washing near me service. They will get the job done correctly and safely. Plus, having someone to do this maintenance for you saves you time that can be better spent on family time, work, or a hobby you enjoy.
Get a Free Quote on Professional

Pressure Washing Services Today
WNC Pressure Washing and Roof Cleaning Is All you Need
The team at WNC Pressure Washing and Roof Cleaning has years of experience providing the very best pressure washing services in Canton and beyond.
We are a veteran-owned and operated company. Furthermore, all of our technicians are fully licensed and insured, so you can trust us and have peace of mind about being on your property.
Call us at 828-331-8118 to get a free quote and to set up an appointment. If you're curious to see what the result of pressure cleaning is, check out our gallery for before and after photos.