House Washing Asheville, NC
Let us help you with our Top-Rated Exterior Cleaning Today!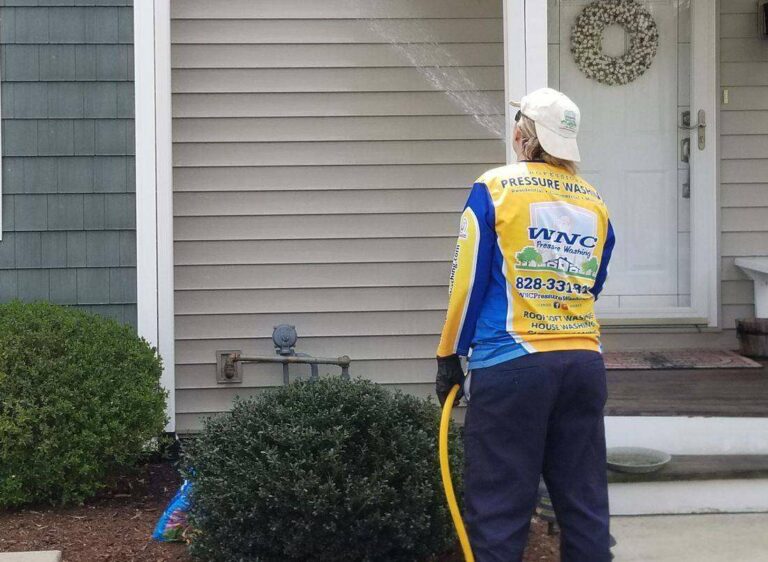 Top-Rated House Washing

Specialist in Asheville, NC
WNC Pressure Washing and Roof Cleaning is your #1 Choice
Cleaning your abode is always a great idea. Most homeowners do a lot of cleaning around the house but often ignore the exteriors or areas that are less used or occupied. Therefore you can hire a professional house-washing service near you. You should hire the best in Asheville, which is WNC Pressure Washing and Roof Cleaning.
As a family-owned and locally operated business, we prioritize your satisfaction and well-being. With more than 13 years of dedicated service to our beloved community, you can trust WNC Pressure Washing and Roof Cleaning to handle your needs with the utmost care. Our team of professionals is committed to providing top-quality service at competitive prices. We offer comprehensive services, including power and soft washing, to meet your requirements.
Our certified cleaning experts leave your home impeccably clean while ensuring the protection of your property. We proudly offer 100% eco-friendly solutions that promote healthier families and a brighter future for all.
Searching for Ashville

House Washing Near You?
WNC Pressure Washing and Roof Cleaning Has you covered
Discover the Ultimate Asheville House Washing Repair Service Near You! Tired of staring at your dull and dirty home exterior? Want to restore the pristine beauty of your beloved Asheville abode? Look no further!
We have the perfect solution to transform your home and make it the envy of the neighborhood. Introducing the finest Asheville House Washing Repair service at your doorstep from WNC Pressure Washing and Roof Cleaning!
Why settle for an ordinary house washing service when you can have an extraordinary experience? Our highly skilled professionals are equipped with the latest techniques and top-of-the-line equipment to ensure your home receives the care it deserves.
We go above and beyond to bring back the sparkle, all while providing exceptional repair services to address any issues your house may have encountered. Here's why choosing our Asheville House Washing Repair service is an absolute no-brainer:
Unparalleled Expertise: Our technicians are true masters of their craft, with years of experience under their belts. They have honed their skills through countless projects, making them the go-to experts for house washing or repair needs.
Comprehensive Solutions: We don't just clean the surface; we delve deeper into identifying and fixing underlying problems. We cover you, from mold and mildew removal to repairing damaged siding or gutter systems. Our meticulous approach ensures your house remains beautiful and protected for years.
Cutting-Edge Technology: We believe in staying ahead of the curve. That's why we invest in the latest tools and equipment, allowing us to provide efficient and effective house washing and repair services. Our state-of-the-art technology ensures exceptional results that exceed your expectations.
Eco-Friendly Methods: We care about our environment just as much as we care about your home. That's why we use environmentally friendly cleaning products and techniques, minimizing any potential harm to the ecosystem. You can have a spotless home with us while contributing to a greener Asheville.
Customized Approach: Your home is unique and deserves tailored attention. We understand that every house has different requirements, so we offer personalized solutions to meet your needs. Our team listens to your concerns, providing a customized plan that brings your vision to life.
Customer Satisfaction: Our mission is to leave you delighted with our service from start to finish. We strive for complete customer satisfaction, ensuring you are thrilled with the results. Our dedication to excellence and our commitment to your happiness set us apart.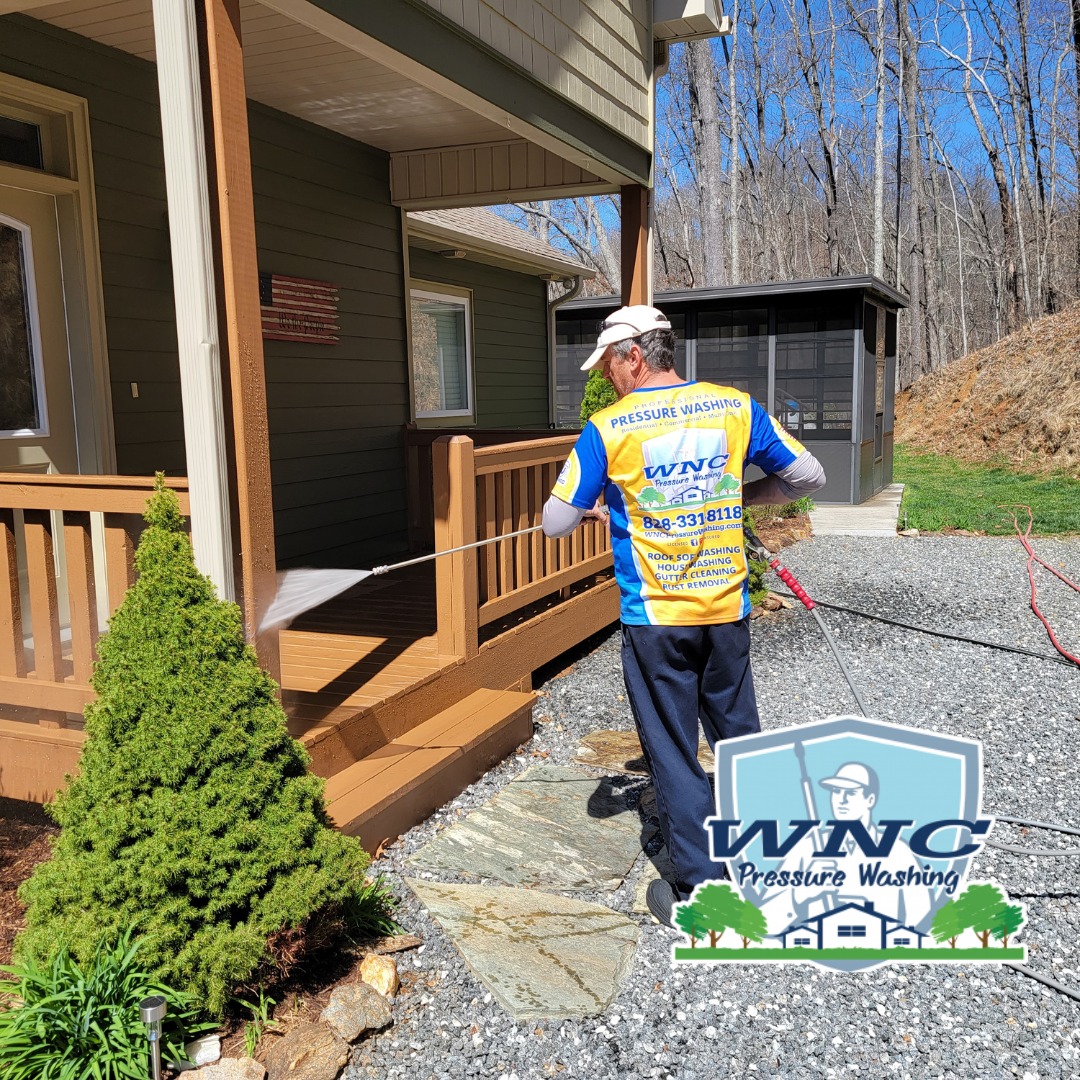 Professional Exterior Cleaning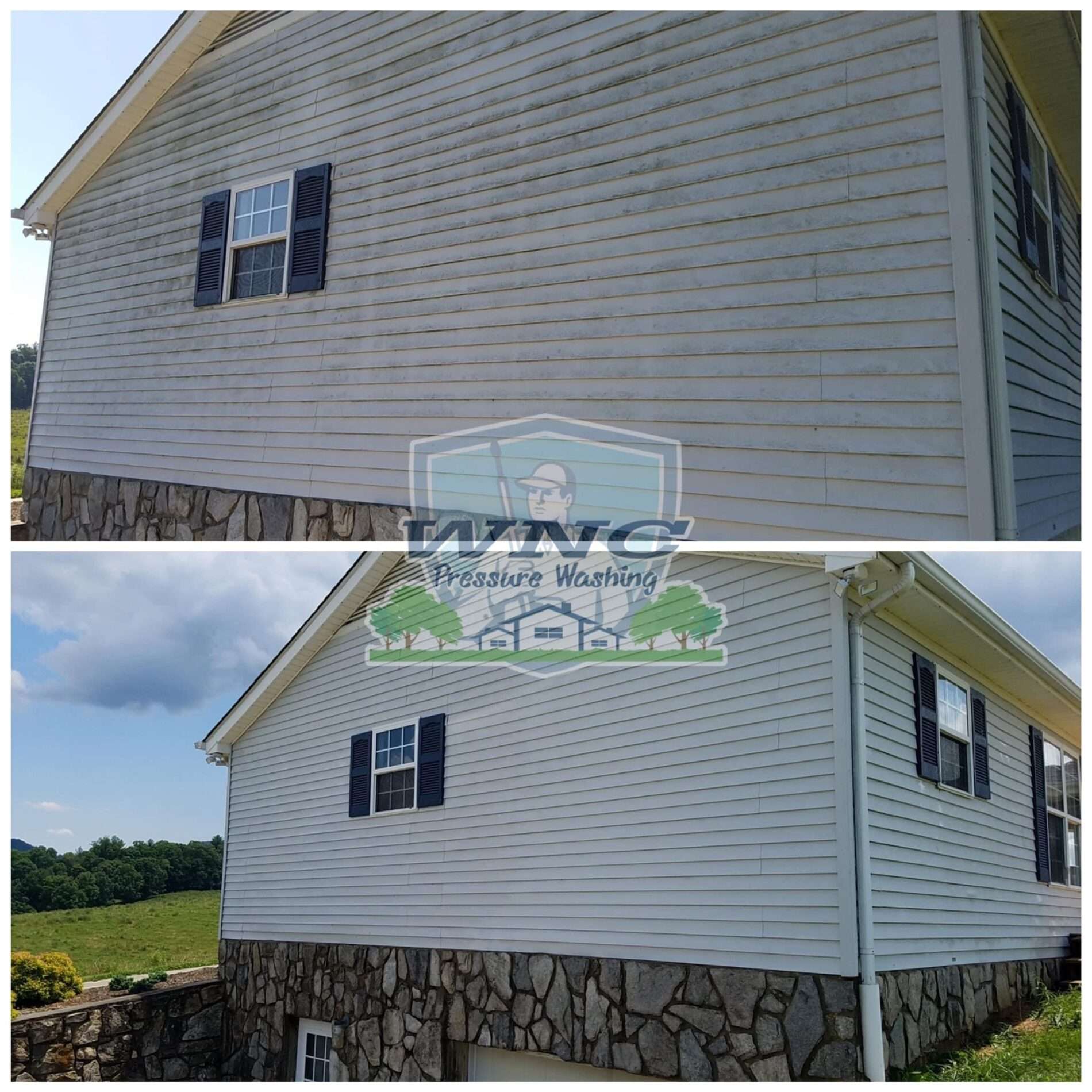 Expert House Washing Company

Ashville, NC Residents Trust
WNC Pressure Washing and Roof Cleaning Is All you Need
Don't miss the chance to revitalize your Asheville home! Contact WNC Pressure Washing and Roof Cleaning today or visit our website to schedule a consultation. Let us transform your house into a shining masterpiece that reflects your style and pride. With our exceptional house washing and repair services, you'll be the talk of the town in no time! Act now and let your home's true beauty shine through!
Asheville, located in the western part of North Carolina, is a vibrant and picturesque city in the Blue Ridge Mountains. Known for its stunning natural beauty, rich history, and thriving arts scene, Asheville has become a popular tourist destination and a beloved home for residents.
The city is home to a vibrant arts community, with numerous art galleries, studios, and craft breweries dotting the downtown area. The city is also renowned for its numerous outdoor activities, such as hiking, mountain biking, and whitewater rafting. Perhaps you are in the area and need an expert house-washing company that Asheville residents trust, don't look further than WNC Pressure Washing and Roof Cleaning.
Call Today for the Best House

Power Washing in Ashville, NC!
WNC Pressure Washing and Roof Cleaning Is All you Need
Are you looking to revitalize the appearance of your home in Asheville, NC? WNC Pressure Washing and Roof Cleaning are here to deliver the outstanding house power washing services you deserve.
Our expertise, state-of-the-art equipment, and customer satisfaction commitment make us the go-to experts for all your exterior cleaning needs. Don't wait another day – give your home the royal treatment it deserves. Call us now!