Commercial Pressure Washing Asheville, NC
Let us help you with our Top-Rated Exterior Cleaning Today!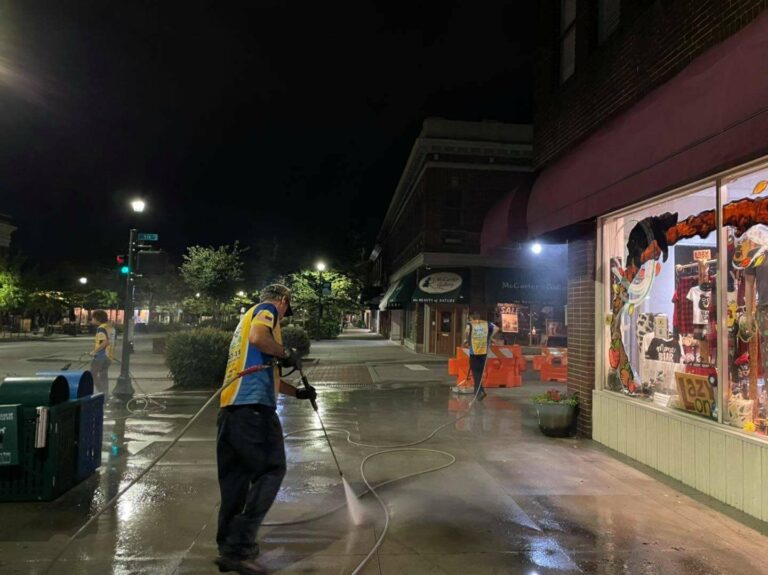 Professional Commercial Pressure

Washing in Asheville, NC
WNC Pressure Washing and Roof Cleaning is your #1 Choice
There's no getting around that to run a successful business, first impressions matter. The appearance of your commercial property plays is significant in attracting clients—and converting them to repeat customers. If you're a business owner in Asheville, NC, and your property requires a facelift, WNC Pressure Washing is here to help.
For over a decade, we have perfected our commercial washing expertise, making it impossible for your business premise to lose its original appeal. Our level of excellence will instill confidence in you and better project a professional image for your business. At WNC Pressure Washing, we understand the peculiarities of businesses in Asheville, NC. As a result, we spare no effort in ensuring that all our customers are beyond satisfied. 
Using customized cleaning solutions and top-rated equipment, our team of insured experts ensures that your commercial property leaves lasting impressions on everyone. That's not even the best part! We offer different tailored budgets, all of which are pocket-friendly. By allowing us to assist you in investing in professional commercial washing, you're setting the stage for a positive brand perception and unparalleled customer experience.
Looking for The Best Commercial Power

Washing Company Near You?
WNC Pressure Washing and Roof Cleaning Has you covered
Our commercial exterior cleaning services cover a range of surfaces, including:
Storefronts

Office buildings

Parking lot cleaning

Sidewalks

Driveways

Fences

Commercial windows

Roof and roof accessories (gutters and downspouts)

Awning and canopy
Be the first to contact us today and get a free estimate!
Power washing is, in its own right, a highly effective cleaning method. The combination of heat, pressure, and appropriate cleaning solutions is impossible for any dirt/grime to resist. Regardless, there's an important ingredient in abundant supply here at WNC; dedication. We take the time to understand your business's specific needs, then tailor our washing solutions accordingly. You can rest assured that every corner and surface will be thoroughly washed to the highest standards.
When you choose us for your building pressure washing, you can have absolute peace knowing that your property is in the best hands. Your cleaning goals will be met with minimal disruptions to your business operations. Furthermore, if you were wondering why there's plenty of fuss about commercial pressure washing, how about we walk you through the Whys? Why should you take parking lot pressure washing seriously? Why should your next order of the day be scheduling an appointment with a credible commercial power washing company in Asheville, NC?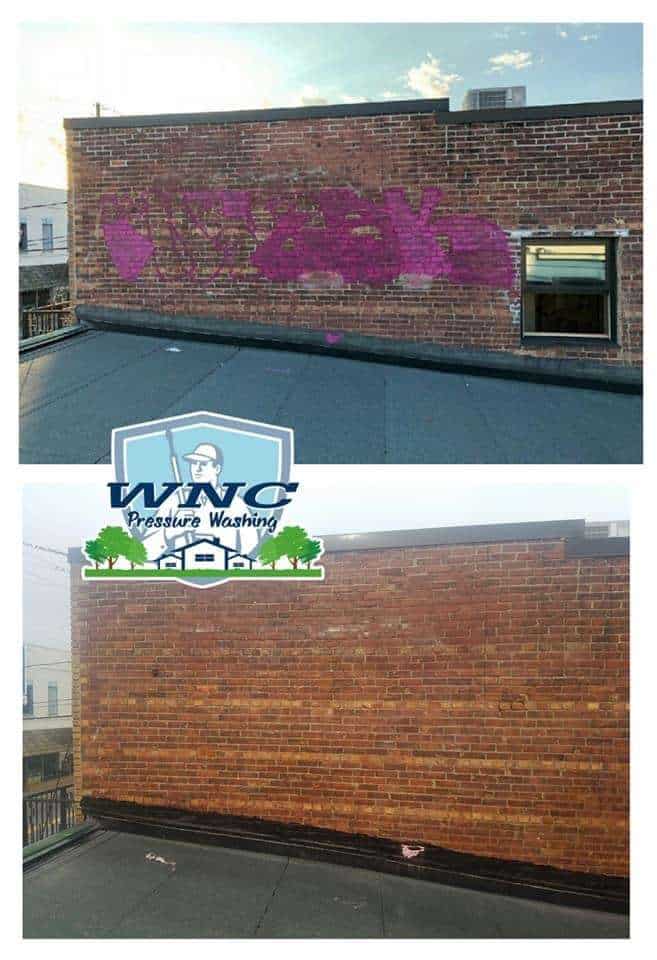 Professional Exterior Cleaning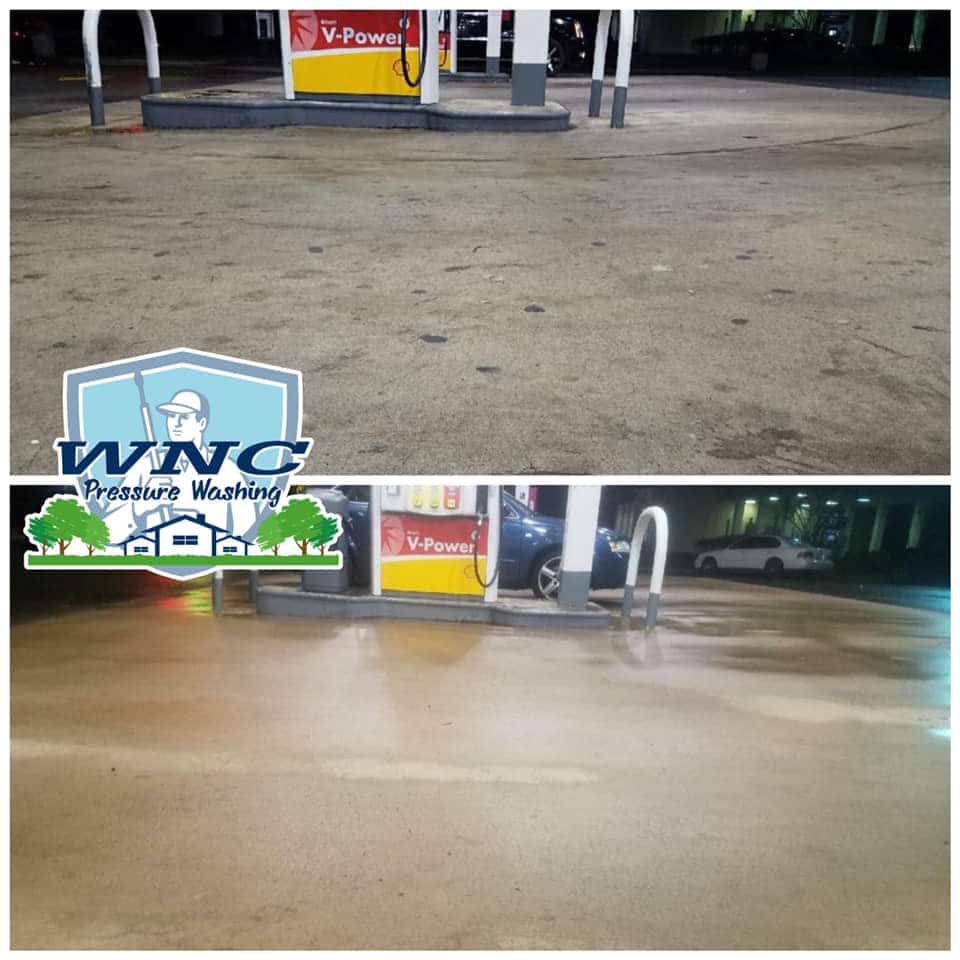 Top-Rated Commercial Concrete

Cleaning Asheville, NC, Residents Trust
WNC Pressure Washing and Roof Cleaning Is All you Need
Here's why:
Your business premises are constantly exposed to a great deal of contaminants. Beyond internally generated ones like grease, spills, oil splashes, mold, and grime, you also have external contaminants to contend with.
Customers track mud and dirt into your commercial building, and constant car traffic makes your driveway and parking lot dingy; unless you pressure wash. In addition, keeping your business premise clean makes you compliant with industry health and safety standards. Especially in the hospitality, healthcare, and food service industry. The need to eliminate bacteria and other potential hazards these contaminants come with is critical to the continued success of your business.
Now, we bet you may still have some questions. So here are a few frequently asked questions we've received over the years and answers to them:
Q: How often should I schedule commercial pressure washing?
The frequency depends on factors like the type of business, the location, and the level of foot traffic or exposure to dirt and pollutants. We recommend scheduling regular cleanings at least once or twice a year. However, we can work with you to develop a customized maintenance plan that suits your specific needs.
Q: Can your pressure washing methods help remove oil stains from my parking lot?
YES. Our specialized equipment and cleaning solutions can penetrate deep into the pores of any surface to break down and lift oil stains, leaving your parking lot looking spick-and-span.
Q. Will your pressure washing disrupt my business operations?
Short answer? NO. We will partner with you to schedule any convenient time to minimize the impact on your operations.
Call Today for Lasting Commercial

Exterior Cleaning Services
WNC Pressure Washing and Roof Cleaning Is All you Need
The 94,067 residents of Asheville take great pride in their properties—whether commercial or residential. The city's motto suggests what is expected of residents and all business owners: " Quality of Service, Quality of Life."
Also, the city's magnificent architecture makes it a thriving hotspot for visitors and tourists. As a result, businesses here receive a constant inflow of customers, underscoring the need for a premier commercial pressure washing company. We are positive that residents can always trust us to get the full value for their money.
Overall, to always be ahead of the competition, you need to increase the appeal of your business to potential customers. Regular commercial pressure washing is a surefire way to make this happen. Thus, want to be a step ahead? Schedule a free-cost appointment now!