Roof Cleaning Waynesville, NC
Let us help you with our Top-Rated Exterior Cleaning Today!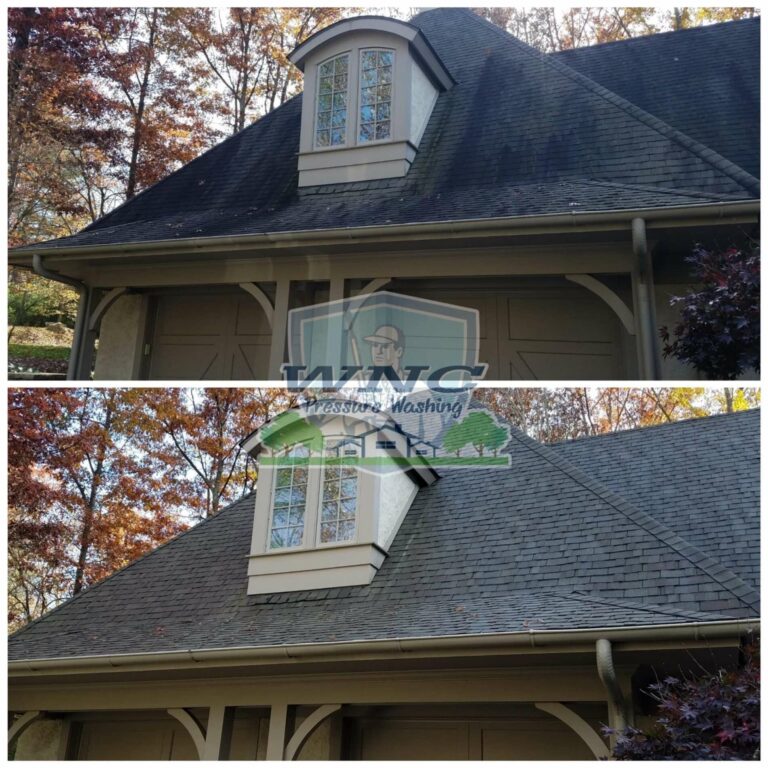 Professional Roof Cleaning

Services in Waynesville, NC
WNC Pressure Washing and Roof Cleaning is your #1 Choice
Are you disappointed with how your roof looks lately from any viewpoint? Perhaps you're worried the next rainy season will be unkind to you if your roof isn't in prime condition. Regardless of your fear, if it concerns your roof, there's no better place to be than here.
Hello and welcome to WNC Pressure Washing! We are the leading roof experts in Waynesville, NC, with over 13 years of experience. Our services are not only geared at making your roof look shinier than ever; we ensure the shiny appeal lasts a long time. At WNC Pressure Washing, we offer roof cleaning services that won't require you to spend on the same problem months/a few years later. Our stronghold isn't expertise, state-of-the-art equipment, or experience. It's the constant desire to make homeowners enjoy more while spending less.
Aside from keeping you safe from weather conditions and nature—domestic pests or wildlife—plenty can be said about the much-coveted aesthetic appeal roofs exude. We've encountered homeowners who couldn't get over their roofs' fine edges and vertices; so satisfying!
Professional Roof Washing

Company in Waynesville, NC
WNC Pressure Washing and Roof Cleaning Has you covered
Roof washing services—when done properly—are surefire ways to enhance the longevity of your roof. This also translates to enjoying the numerous benefits of a good roof. Your roof is an indispensable part of your home, won't you agree? As such, we are adept and eager to handle even the toughest roof-cleaning projects.
Moreover, you may have spent a long time looking for that one company you can trust. Well, if it's 100% value for money you're looking for, let WNC Pressure Washing take care of your roof washing needs in Waynesville, NC. A bet on us is one you can't lose.
Roof discoloration often comes with a crushing disappointment. Especially because it's progressive, and you'd likely not notice until it worsens. This problem is perhaps why aesthetics is the most discussed benefit of roof cleaning. However, experience has taught us that other benefits rank higher, like enhanced curb appeal and increased value for potential buyers. Put together; these benefits allow you to get the most out of your investment.
Roof problems don't fall from the sky. There's a process, a pattern to them. We like to believe that when customers know and understand the problem process, they can identify a spectacular solution when it comes. Therefore, since you're here because you probably searched for roof pressure/soft washing services near you, let's walk through the problem the services would be tackling.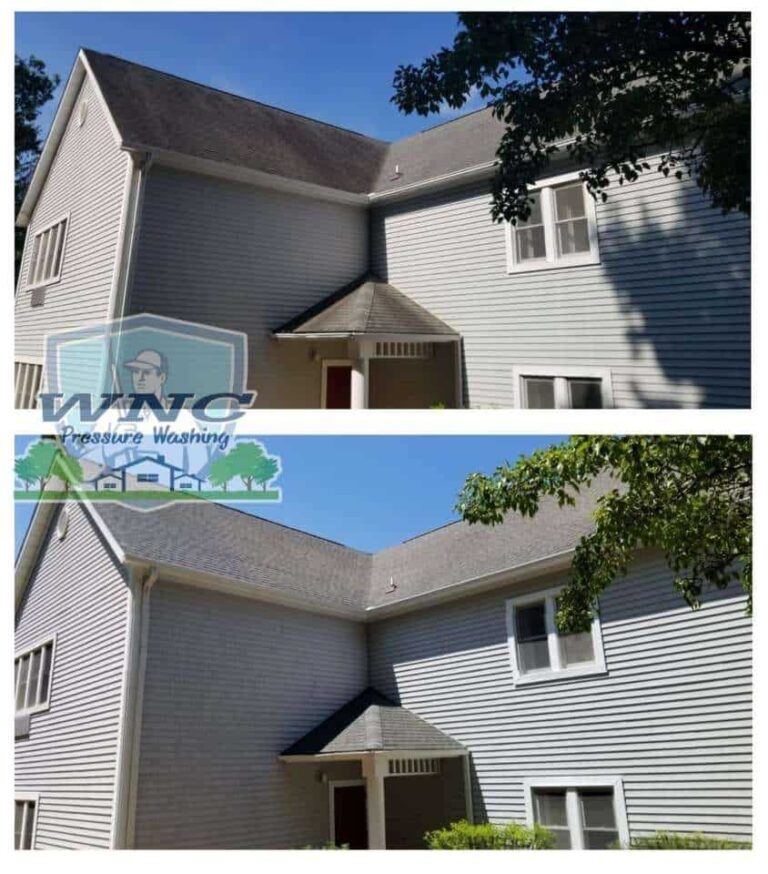 Professional Exterior Cleaning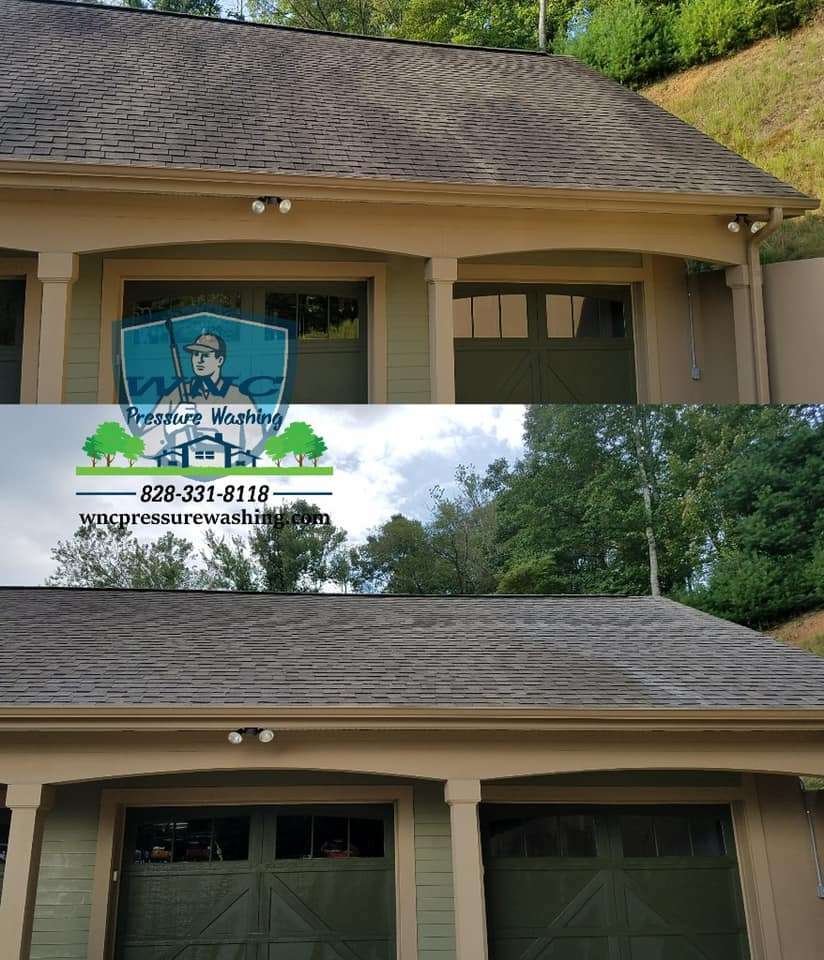 Prevent Roof Damage with

Our Expert Service
WNC Pressure Washing and Roof Cleaning Is All you Need
Firstly, moisture—humidity if you like. This, my friend, is the nucleus of all roof problems. Since your roof is always exposed to elements—in Waynesville, one major element is humidity—the growth of organisms like algae is facilitated.
Asides from algae, others like mold and mildew also cause problems. These organisms can retain moisture, degrading the structural integrity of your once vibrant roof. Eventually, leaks and other costly damages will happen.
What is most striking is the discoloration and dark stains these microorganisms cause on your roof. This negatively affects your home's appeal. They also make room for other dirt and debris accumulating on your roof.
Speaking of other debris, things like twigs, leaves, and dust can clog your roof accessories like your gutter system. Clogged gutters and downspouts put your foundation at risk. Also, pests find them to be comfortable breeding grounds. If anything is clear, these problems are intertwined; one leads to another. But what if we told you that it's a good thing? How? The chain is disrupted once one problem is eliminated and your roof is safe.
Roof cleaning solutions like roof moss removal, power washing, and gutter cleaning can prevent all the above problems from ever happening—or progressing further. Expertise and hawk-eyed precision are important, so further damage won't be done if there's any already. We offer roof-washing services at a premium. Now is the best time to contact us!
Call Today for

Lasting Roof Washing Services in Waynesville, NC!
WNC Pressure Washing and Roof Cleaning Is All you Need
Choosing what cleaning method to choose between soft, pressure, and power washing plagues many contractors in Waynesville, NC. As such, our first line of action here at WNC is a detailed roof inspection. The findings of our inspection will determine what cleaning method to use. Nevertheless, Waynesville homeowners can rest assured that either cleaning method we settle for will yield nothing short of excellence. We are confident that all 50,000 residents of this beautiful town can entrust their roof cleaning needs to us.
Here at WNC, our cleaning touch is gentle but appropriately firm. After over a decade of making homeowners feel fulfilled with our roof restoration services, we are eager to make you our next happy customer! Our appointment scheduling process is seamless, so don't hesitate to reach out immediately!