Roof Cleaning Maggie Valley, NC
Let us help you with our Top-Rated Exterior Cleaning Today!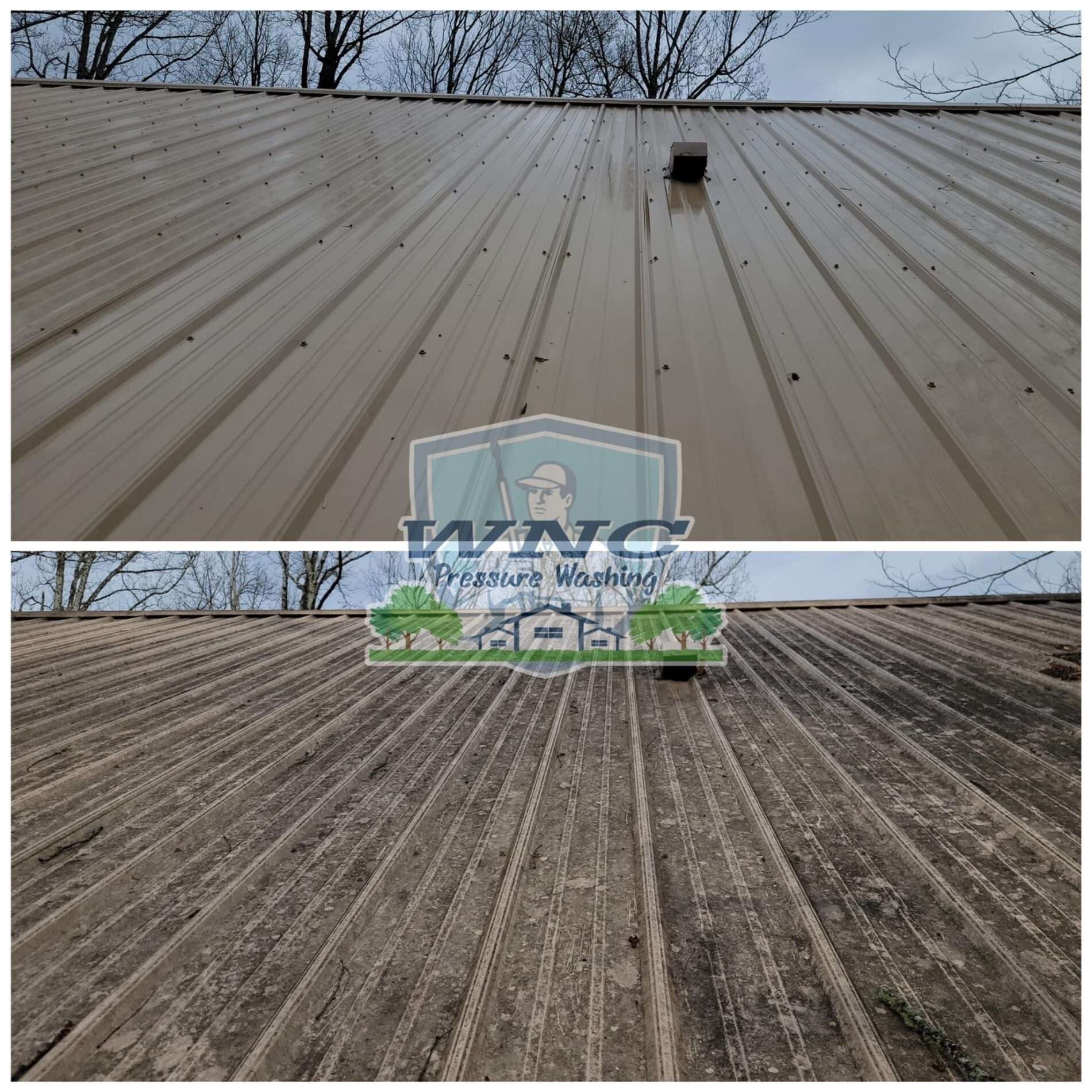 Benefits of Professional

Roof Cleaning in Maggie Valley
WNC Pressure Washing and Roof Cleaning is your #1 Choice
When it comes to cleaning the exterior of your house, one area that should not be overlooked is your roof. Since it's constantly exposed to harsh, natural elements, it's easy for your roof to get dirty with all types of debris. A thorough roof cleaning can blast away stuck-on dirt so your roof looks as good as it did the day it was installed. 
If you're considering getting your roof professionally washed, look no further than the roof cleaning Maggie Valley NC team at WNC Pressure Washing and Roof Cleaning. With years of experience under our belt, we can offer you a top-rated roof cleaning service at an affordable rate. 
Before we dive into all the benefits of professional roof cleaning, what exactly is that? Roof cleaning is the process of removing dirt, mold, moss, and other types of loose debris from your roof with a power/pressure washer.
Pressure washing uses a highly-pressurized stream of water to dislodge this debris and blast it away. Generally speaking, this process won't take a lot of time. Most roof cleans only take about two to three hours, depending on the size of your home and the severity of the stuck-on debris. Before you call us to set up an appointment, try to have an estimate on the size of your roof as the cost of roof cleaning is usually calculated by your roof's square footage. If you're not sure about the size of your roof, no worries. Our team can still conduct a thorough estimate.
But enough about all that – what are the benefits of professional roof cleaning? One of the top benefits of professional roof cleaning is that it will extend the life of your roof. Though roofs typically have a pretty long lifespan as is, that's only if it is kept in good shape. Things like heavy winds and rains can damage roofing shingles, however, so can things like moss and mold.
Why You Need to Hire a

Professional Roof Pressure Washing Company
WNC Pressure Washing and Roof Cleaning Has you covered
Moss is one of the most serious problems your roof could have since, over time, it can spread and put a lot of pressure on your shingles. This is because moss retains a lot of water, so the longer it sits, the heavier it gets. All of that pressure can eventually cause damage to your roof.
Mold is another big culprit, which can eventually look at your roofing shingles as a food source. Cleaning your roof can eliminate these harmful growths before they get worse. The second big benefit of roof cleaning is that it will easily improve the look of your roof. Over time, it's normal for your roof to develop algae that leave behind black stains. This makes your home look rough. But with the right cleaning solutions, you're well on your way to having a clean-looking roof that will enhance its curb appeal.
Though it's not the last benefit, another reason to hire a professional is that it can be unsafe to try and clean the roof yourself. Even if you're not afraid of heights, cleaning a roof is a big job. Without proper training, you could find yourself in a tough situation. For these reasons and many more, hiring WNC Pressure Washing and Roof Cleaning for roof moss removal is recommended.
Simply put, if you want to make sure that your roof is as clean as it can be and you want to get rid of things like mold and mildew from your roof, you need to hire a roof washing service to come in and work their magic.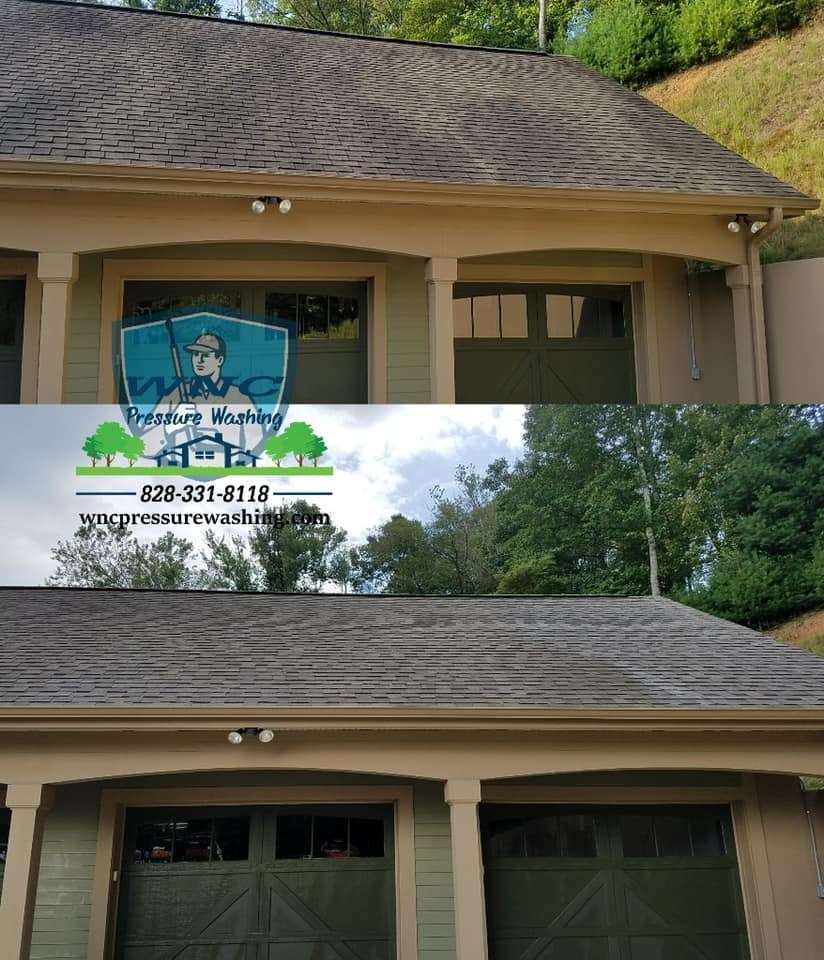 Professional Exterior Cleaning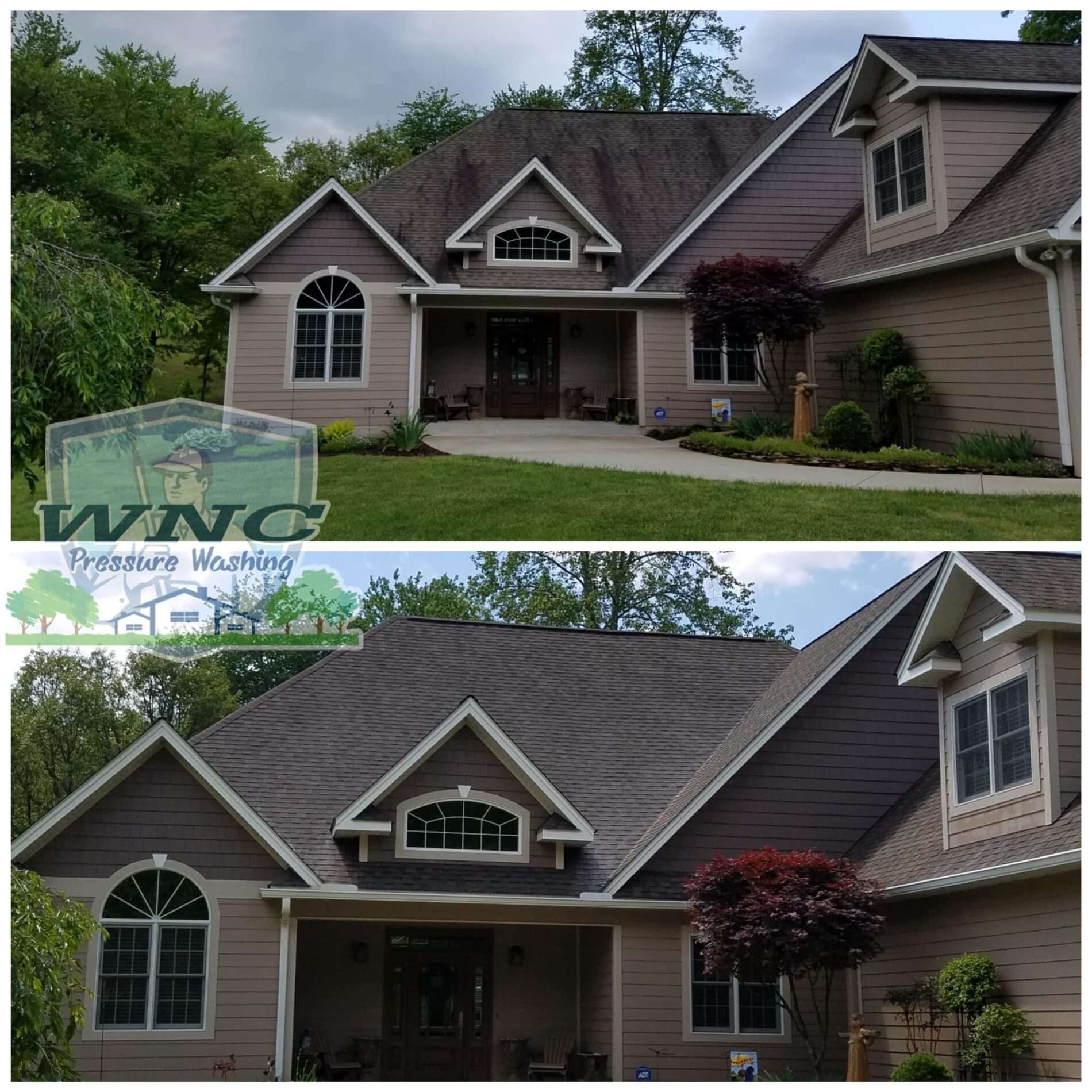 There's Nothing Like Having

a Clean Roof in Maggie Valley!
WNC Pressure Washing and Roof Cleaning Is All you Need
Washing your roof is so much more than just making it look pretty. Roof soft washing helps keep it healthy and prevents severe structural damage from occurring. If you leave the previously mentioned mold and mildew untreated and decide to live with a dirty roof, those things can eventually eat away at the shingles and wood of your home, causing leaks, creating water damage, and eventually leading to structural damage and a huge repair bill for you. If you care about the condition of your home, you should invest in getting your roof cleaned at least once or twice a year. 
Roof power washing keeps your home safe and makes it look great! Get peace of mind and the best-looking roof when you have WNC Pressure Washing and Roof Cleaning on the job. No need to Google "Maggie Valley roof cleaning near me." Just give us a call at 828-331-8118 for a quote and to set up an appointment.
Searching for Quality Roof Washing?

Hire the Team at WNC Pressure Washing and Roof Cleaning!
WNC Pressure Washing and Roof Cleaning Is All you Need
WNC Pressure Washing and Roof Cleaning provides you with the best roof washing near me. If you'd like a free estimate, give us a call at 828-331-8118 or go to our website for more information. We are a veteran-owned business that guarantees you the best service possible. We look forward to helping you with all your roof cleaning needs!